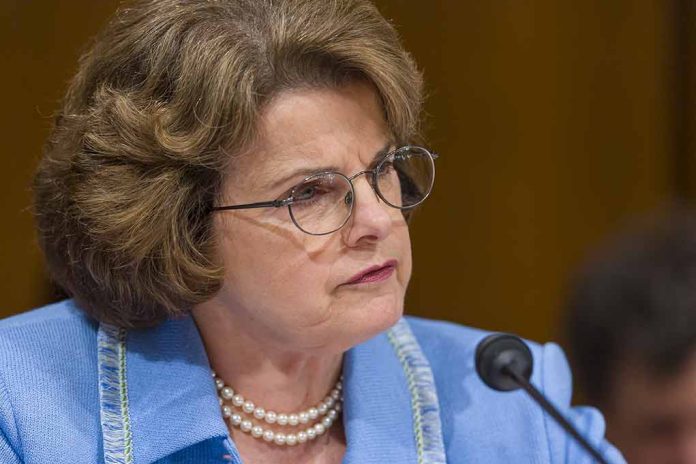 (RepublicanJournal.org) – California Sen. Dianne Feinstein (D) has been absent from the Senate floor since it reconvened in February, her extended battle with shingles leaving work on the Judiciary Committee in the air. The situation has left lawmakers unable to vote in new judges, and the senator has given the committee no signs of when it might be able to resume doing so. Democrats have attempted to move forward without the missing member amid nationwide concerns, but the GOP's roadblocks have them at a standstill.
Democrats forced to play Feinstein waiting game after GOP puts up roadblock https://t.co/0ai46YRzAD pic.twitter.com/q6AwcMeyCl

— The Hill (@thehill) April 18, 2023
Feinstein has missed close to 60 Senate votes since taking her medical leave, according to POLITICO. During that time, 14 judge nominees have sat in limbo due to the Judiciary Committee's postponed votes, The Hill added. In an April 12 statement, the California senator said she had expected to return to Washington, DC, by the end of March, but she still wasn't well enough to travel. The lawmaker said she planned to continue working from her San Francisco home while she awaited word from her medical team when she'd be healthy enough to make the cross-country flight.
To overcome further delays in the Judiciary Committee, the lawmaker asked Senate Majority Schumer to find a suitable Democrat to stand in for her until she could return. Schumer attempted to bring in Sen. Ben Cardin (D-MD), but GOP members blocked it in a vote. Senate Republicans have indicated that they're willing to keep the committee waiting over handing control and an easy means of continuing to appoint more progressive judges to the Left, which currently holds the Senate majority. Minority Leader Mitch McConnell (R-KY) told The Hill that he and his peers would not participate in the move "just so Democrats can force through their very worst nominees."
Many Democrats remain hopeful that Feinstein will return soon. Sen. John Hickenlooper (D-CO) told The Hill, "She deserves to create her own timeline" in light of her decades of service. Rep. Nancy Pelosi (D-CA) shared a similar sentiment, adding as any other lawmaker, the Senate should grant the California Senator the time and respect she is due while she recovers from her illness.
Copyright 2023, RepublicanJournal.org