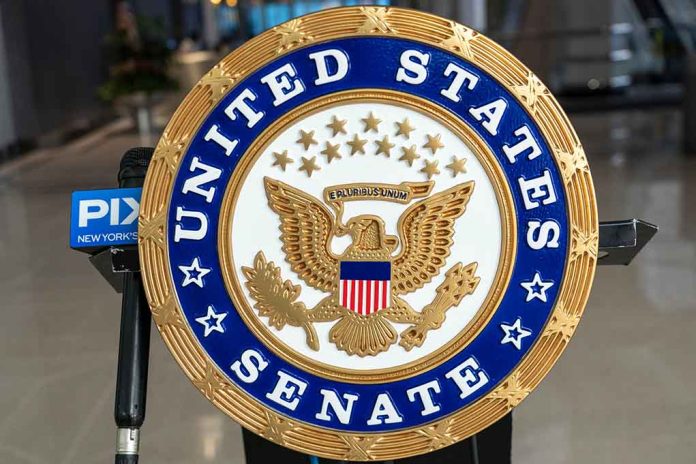 (RepublicanJournal.org) – Sen. Dianne Feinstein (D-CA) failed to return from the Senate's late February recess due to a particularly painful bout of shingles, according to an NBC News report. Despite hopes for a speedy recovery, the California senator remained absent through March and April, prompting some of her peers to pressure her to resign. Now, after months of missed votes, Feinstein has returned to the Capitol.
Dianne Feinstein returns to D.C. – One America News Network https://t.co/DQIZfQfjxY

— Kathlin Hawleys (@HawleysJadefav) May 10, 2023
Feinstein missed 78.2% of the 118th Congress' votes due to her illness, according to ProPublica, giving her the highest absentee rate of all members. Another Democrat, Sen. John Fetterman (PA), also missed a significant number of votes — 54% over one and a half months — leaving progressives in the chamber struggling to gain traction for much of the first half of the session.
OANN reported that Feinstein's lengthy recovery had stalled the Democrats' ability to take advantage of their 51-49 Senate majority. The continued absences have pressured Democrats to seek solutions around Feinstein's missing votes, such as temporarily replacing her seat on the Judiciary Committee, but Republicans refused the short-term fix. Despite the hardships her absence caused them, her peers largely remained supportive and voiced their desire to allow the California lawmaker to recover on her own timeline, according to POLITICO. Still, a handful of Congress members, including Reps. Ro Khanna (D-CA), Dean Phillips (D-MN), and Alexandria Ocasio-Cortez (D-NY) called for Feinstein to step down.
Feinstein, now 89, joined the Senate in 1992, making her a member of the upper chamber for over 30 years. NBC News stated Feinstein's Senate time, combined with previous work as San Francisco's mayor and supervisory board member, represents over 50 years the California lawmaker has held public offices. She's currently the oldest member in the upper chamber and California's record-holder for serving longer than anyone else. Feinstein has officially announced she is retiring at the end of the 2024 term.
Copyright 2023, RepublicanJournal.org