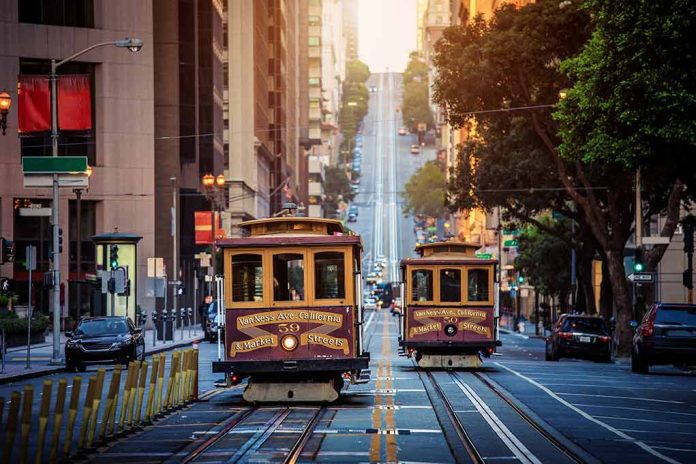 (RepublicanJournal.org) – The health of Senator Dianne Feinstein (D-CA) has been worrying her fellow lawmakers for several years now. Many are questioning whether the 90-year-old, who first entered the Senate in 1992, is still mentally fit to do her job. Now more questions are being asked after she was hospitalized following a minor fall.
Feinstein's Health in Doubt
Democrat lawmakers have been openly questioning Feinstein's fitness for office since at least 2020 when her performance during Supreme Court Justice Amy Coney Barrett's confirmation hearings drew criticism. Even then, her colleagues were working to keep her on the sidelines, fearing that her visibly declining mental powers would cause problems for them.
In the three years since then, those questions have been getting a lot louder. This February, Feinstein finally gave in to her critics and said she wouldn't seek re-election in 2024 — but just hours later, she forgot she'd made that announcement. Many Democrats would prefer if she stood down now, giving them a chance to get a younger, less feeble replacement.
Feinstein's health hit the news again in May when she was hospitalized for shingles. Rumors then started to spread that complications had developed, including encephalitis — a swelling of the brain that can cause confusion, seizures and even death. On her release from the hospital, Feinstein told reporters she hadn't had encephalitis and "It was really a bad flu." Her own staff immediately contradicted her by admitting that, yes, she had suffered from encephalitis. During that illness, she didn't appear in the Senate for almost three months, missing nearly a hundred votes.
Fall Is Latest Mishap
On August 8, Feinstein was hospitalized yet again, this time following a fall at her San Francisco home. She was released after tests, but the fact she's now frail enough to need scans after a minor fall won't do anything to reassure those who think she's declined too far to be holding a senior post in our legislature.
Feinstein is just one of the visibly deteriorating elderly politicians — others include Representative Nancy Pelosi (D-CA) and President Joe Biden — who are fueling demands for term and age limits. In fact, the first suggestion of term limits for Congress date all the way back to 1789, but so far, they've been ruled unconstitutional, for example, in the 1969 Supreme Court ruling in Powell v McCormack.
Now, 75% of the public thinks it's time they were reintroduced. Republicans and Independents are the most likely to want ancient politicians nudged into a graceful retirement, but 65% of Democrats agree with them. Unfortunately, with a frail, unsteady and increasingly confused president at the helm, it probably isn't something that will be happening anytime soon.   
Copyright 2023, RepublicanJournal.org