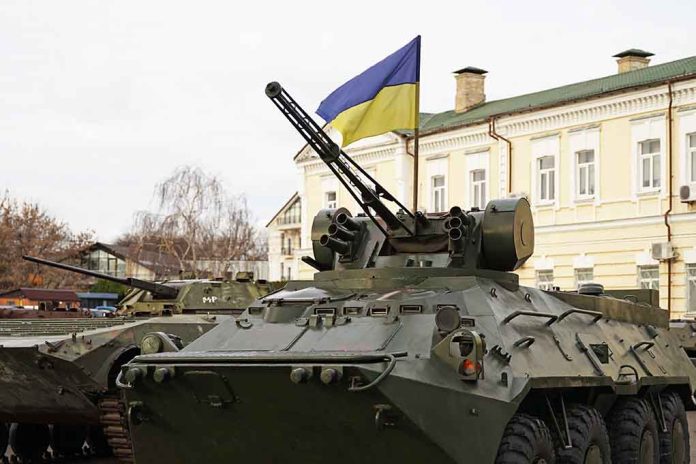 (RepublicanJournal.org) – Tucker Carlson loves to talk about hot topics in politics these days, and both presidential candidates and the ongoing war in Ukraine fall into that category. So, he recently put them, and a list of other questions, together in a survey for likely GOP presidential candidates and began sharing their answers. Florida Governor Ron DeSantis (R), who has not officially announced a White House bid but did pull off a recent national book tour, provided his take on Ukraine, which brought criticism from both sides of the aisle.
DeSantis wrote to Carlson that "the US has many vital national interests," but "becoming further entangled in a territorial dispute between Ukraine and Russia is not one of them." The Florida leader also said America shouldn't send any military aid to Ukraine that would allow the defending nation to fight back "beyond its borders," which would include jets and long-range missiles. He also asked for clarity on what the billions of American taxpayer dollars is funding overseas.
These Republicans have pushed back against DeSantis's Ukraine comments https://t.co/c1UjnoRpcv pic.twitter.com/SylxskKz0w

— The Hill (@thehill) March 15, 2023
Shortly after the words went public, Senator Lindsay Graham, who has been a major cheerleader for US support for Ukraine, offered the following on Twitter:
If Putin loses in Ukraine, then the world resets in all the right ways.

If he wins in Ukraine and the west capitulates just like in the past, more conflict is coming.

— Lindsey Graham (@LindseyGrahamSC) March 14, 2023
In a statement shared by The New York Times, previous Wyoming Senator Liz Cheney highlighted that Russia's war in Ukraine isn't "a territorial dispute" and noted that allowing Putin to overtake the nation "makes America less safe."
Axios reported that Senate Majority Leader Chuck Schumer (D-NY) spoke on the Senate floor on Wednesday, March 15, declaring that DeSantis' stance is "dangerous," "un-American," and "un-democratic." He believes the isolationist stance is ignorant, choosing to be blind to world history.
Current GOP presidential candidate Donald Trump has a similar stance on Ukraine to that of DeSantis. The other likely White House hopefuls appear varied on what the US should do. Former Vice President Mike Pence, Texas Governor Greg Abbott, and former UN Ambassador Nikki Haley also shared their views on numerous topics.
Copyright 2023, RepublicanJournal.org