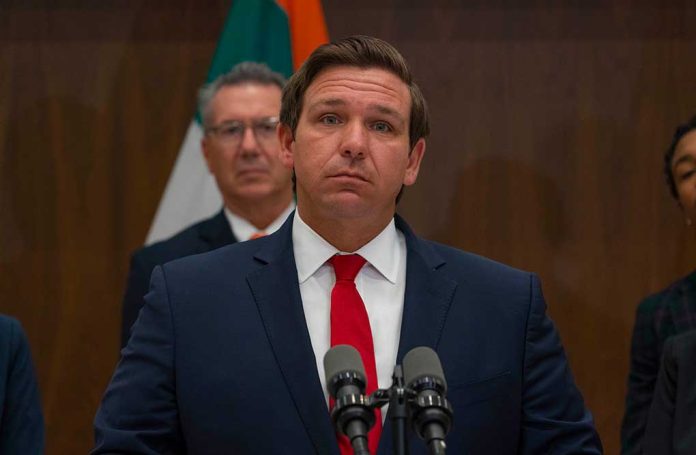 (RepublicanJournal.org) – The Manhattan District Attorney's (DA's) lengthy investigation has ended in a criminal indictment for former President Donald Trump. The Associated Press stated prosecutors are currently attempting to negotiate his surrender, which they hope to see by next week. Florida Governor Ron DeSantis has expressed his outrage over the development, announcing his refusal to cooperate with the DA if that office tries to extradite the popular GOP leader.
Ron DeSantis says he will refuse any extradition request after Trump indictment: 'Questionable circumstances' https://t.co/KAbwW1Xu3J

— Fox News (@FoxNews) March 31, 2023
Fox News reported DeSantis, among others, has lodged a vocal response to the New York prosecutor's decision to press charges against Trump. He called the move "un-American," saying it was a "weaponization of the legal system to advance a political agenda." Because he feels the decision comes from "questionable circumstances," he won't assist in any actions to forcibly take the former president into custody from his Mar-a-Lago home.
The relationship between DeSantis and Trump has been on shaky ground since rumors began circulating that the Florida governor might be planning his own bid for the White House. Still, the possible GOP challenger is standing in solidarity with his fellow Republicans, many of whom have also spoken out about the indictment.
Former Vice President Mike Pence called the decision "an outrage," according to Forbes. He also expressed concerns that it would "only further serve to divide our country." House Speaker Kevin McCarthy chastised DA Alvin Bragg for going easy on most crimes, allowing "violent criminals to terrorize the public," while attempting to throw the book at Trump. The representative has promised that prosecutors will answer for what he has called an "unprecedented abuse of power."
Trump is facing charges related to accusations he bribed adult film star Stormy Daniels $130,000 in 2016 to stay quiet about a sexual encounter between the two of them, according to a related article by the Associated Press. The former president also reportedly paid off another woman with whom he allegedly had an extramarital affair between 2006 and 2007. He reportedly used his lawyer to pay both women and then falsified business records to make his reimbursements appear as legal fees.
Copyright 2023, RepublicanJournal.org