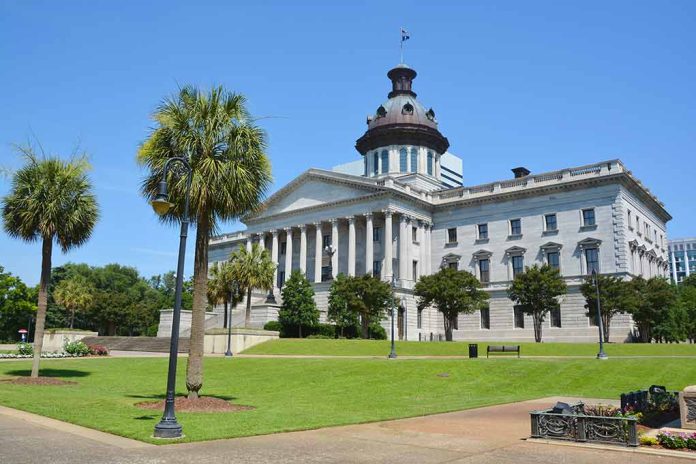 (RepublicanJournal.org) – South Carolina Republicans gathered in Lexington on May 20, where they selected Chairman Drew McKissick for a fourth term. Gov. Henry McMaster (R) spoke during the event, making a joke that didn't sit well with many members of the Left. Some are demanding an apology and calling for the South Carolina State Law Enforcement Division to investigate him if he refuses.
McMaster sparked the backlash by commenting, "I look forward to the day that Democrats are so rare, we have to hunt them with dogs." The State reporter Joseph Bustos, who was present for the speech, tweeted the quote in real-time from the event.
The South Carolina governor's rhetoric echoed a previous sentiment, which The State also covered. In August 2018, McMaster said, "Our Democratic friends are a lot like dogs. One on one, they're really nice, but in a pack, they're dangerous."
Daily Caller reported some lawmakers see his language as particularly threatening. Anderson County Democratic chair Chris Salley, who is black, painted McMaster's words as a "racially-tinged[sic] dog whistle." He posted a statement on Facebook and a petition calling for an investigation to scrutinize McMaster's statements. He claimed such rhetoric speaks to extremists, adding to the threat of violence and halting any meaningful discussion. Salley added, "no one is above the law" in South Carolina, and Democrats expect the outspoken governor to receive the same legal treatment as anyone else.
Chair of the South Carolina Democratic Party, Christale Spain, took to Twitter with similar comments. The black politician called McMaster's words "chilling," adding that the governor "knows [their] history."
Brandon Charochak, a spokesman for McMaster, simply called the statement "a joke" that "everyday South Carolinians" would "understand," according to NBC News. He stated Democrats needed to stop "whining," grow a backbone, and "focus their energy on winning."
Copyright 2023, RepublicanJournal.org