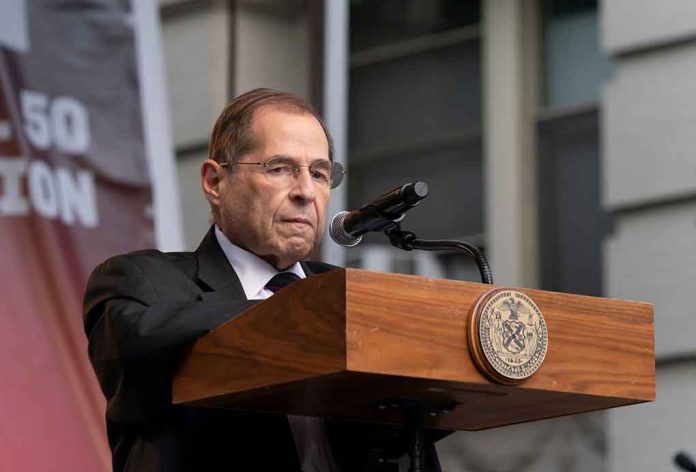 Democrat IN TROUBLE – Years of Illegal Activity Reported!
(RepublicanJournal.org) – Watchdog group Americans for Public Trust sent a complaint to the Office of Congressional Ethics (OCE) on August 22, claiming a senior staffer for Representative Jerry Nadler (D-NY) has violated federal law for years. The letter accuses Attorney Robert Gottheim, the lawmaker's district director, of providing legal services for Nadler's campaign — an action barred by law.
Although records don't list Gottheim as "senior staff," they show his income over the last few years puts him in that category.
EXCLUSIVE: Top Jerry Nadler Staffer Has Been 'Violating' Federal Law For Years, Complaint Allegeshttps://t.co/UV6X65EXro

— Daily Caller (@DailyCaller) August 22, 2022
A spokesperson for Nadler's campaign responded to the allegations, stating the employee didn't provide legal services for the team. Apparently, the payment was for Gottheim's work as a "strategic advisor." Yet, the Federal Election Commission's (FEC) records categorize the fees under "legal" when looking at the congressman's campaign declarations.
Nadler's team claims that to file a proper report, the government requires them to choose a reporting category, and they chose "legal & strategic advising," which the agency lumps together. Unfortunately, there's no way to differentiate between the two, but one is against the law, and the other isn't.
The executive director for the watchdog group, Caitlin Sutherland, stated the team's claim that Gottheim didn't provide fiduciary services is ridiculous. She said the attorney's New York legal credentials clearly helped him better assist the legislator's campaign.
Copyright 2022, RepublicanJournal.org