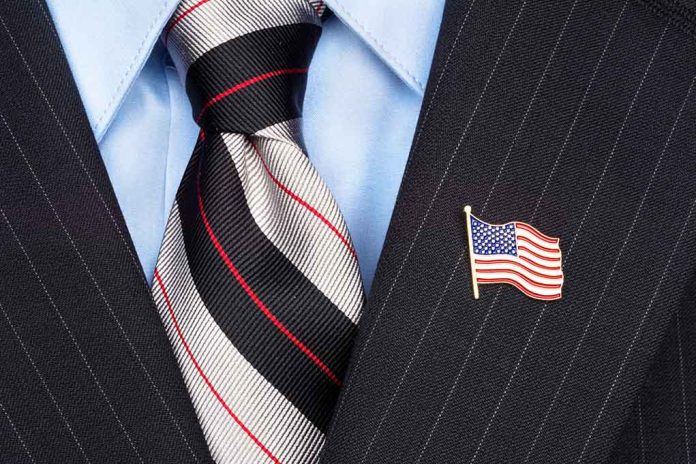 (RepublicanJournal.org) – There's nothing quite like fashion to make a statement or get a point across. During President Joe Biden's State of the Union address in early February, many lawmakers used pins and props to call for legislation, take a stand, or bring attention to different issues Americans currently face. A few progressive lawmakers even donned an accessory featuring the word "abortion," with the first "o" having a heart in the center.
Ahead of Biden's speech on Wednesday, February 7, Senator Ed Markey (D-MA) shared a photo of his pro-abortion pin on Twitter that Planned Parenthood provided him. Representative Madeleine Dean (D-PA) also wore the pin. Former Arkansas Governor Mike Huckabee (R) condemned the fashion choice, calling it "sick and depraved."
This is sick and depraved. Celebrating the killing of innocent unborn children. This isn't a Dem/GOP issue or right/left. This is the mark of evil. God help us. https://t.co/04bKT1s0HK

— Gov. Mike Huckabee (@GovMikeHuckabee) February 8, 2023
Markey also invited Kate Dineen, a pro-choice activist, to attend the State of the Union with him that evening.
Some Democrat lawmakers wore pins with the number 1870 on them, which highlights the year that a Philadelphia police officer shot Henry Truman, an unarmed black man. According to a card displayed alongside the pin, this was the first recorded instance of law enforcement killing an unarmed black man.
Other Democrats chose to wear crayons on their outfits, hoping to draw attention to their desire for affordable child care. The campaign is called "Crayons for Kids" and was led by Senator Patty Murray (D-WA). In a statement on her website, she shared her vision to "build a child care system that works for working families."
Additional pins spotted during the SOTU were Representative Maxwell Frosts' (D-FL) "March For [sic] Our Lives" pin to support gun control and Representative Dan Goldman's (D-NY) "warming stripes" accessory to bring attention to climate change. Many of these progressive pins were worn in place of American Flags, which many GOP lawmakers used to adorn their attire.
Copyright 2023, RepublicanJournal.org