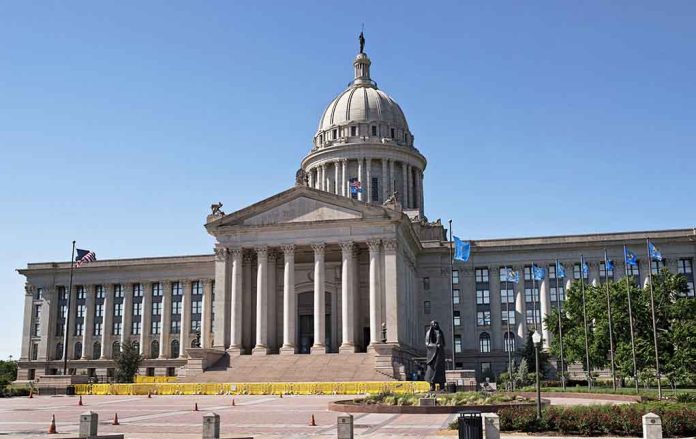 (RepublicanJournal.org) – Oklahoma lawmakers introduced 40 bills in February that would dramatically limit "gender-affirming care" and other aspects of LGBTQ+ expression. Protests have erupted at the state Capitol over the effort, and in some cases, the clashes have become heated. During a demonstration on March 7, after one individual assaulted a police officer, state Rep. Mauree Turner (D) allowed the perpetrator to hide in their locked office. Now, fellow lawmakers are taking action.
Turner is Oklahoma's first openly "non-binary" legislator, so they likely see themselves as a champion for LGTBQ+ rights. Still, other state lawmakers aren't impressed with the representative's decision to aid and abet an individual who broke the law during the protests. The person allegedly doused another state representative with water before engaging in an altercation with a police officer — but then Turner used their official office to lock out law enforcement and shelter the person from questioning.
Statehouse members have opted to strip Turner of all committee assignments unless their peer formally apologizes to everyone involved. The Oklahoma representative has refused so far, according to AP News. The lawmaker insists their only crime was "loving the people of Oklahoma." In their defense, the rep stated their office was "a space of grace and love" for anyone who might "seek refuge from the hate in this building."
"I think an apology for loving the people of Oklahoma is something that I cannot do," said Turner, D-Oklahoma City, flanked by several Democratic colleagues. "It's something that I actively refuse to do."#okleg (from @AP) https://t.co/J87ghYTXOF

— Sean Murphy (@apseanmurphy) March 7, 2023
Among the measures Oklahoma lawmakers have proposed are plans to ban all medical intervention involving transgender children and prohibit insurance carriers from covering any type of "gender-affirming" care. Recently signed bills require sports to recognize biological sex for playing eligibility and make it illegal for individuals to use bathrooms designed for people of the opposite sex. Proponents feel they're protecting the public from dangerous influences, while LGBTQ+ supporters believe the actions unfairly silence individuals needing community support. They say lawmakers are unfairly targeting these groups for being different.
Copyright 2023, RepublicanJournal.org