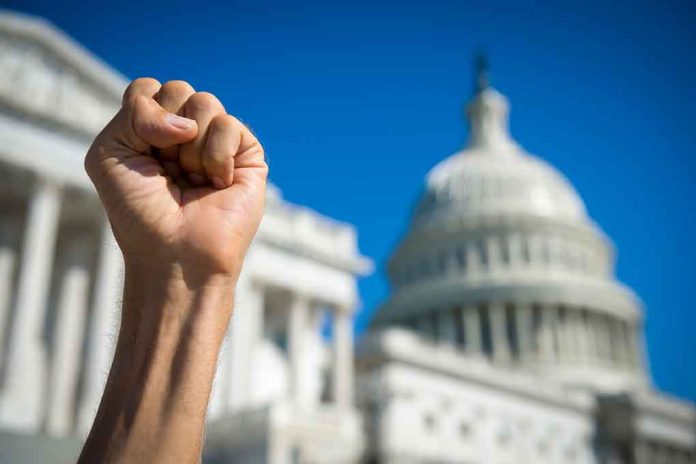 (RepublicanJournal.org) – Voting rights legislation has proven to be a highly divisive topic in Washington, DC over the last number of months. Despite strong backing from the core of the Democratic Party, the Freedom to Vote Act failed in the Senate last week. Even so, some backers of the legislation aren't giving up without a fight.
According to a statement from his office, police arrested Rep. Jamaal Bowman (D-NY) on Thursday, January 20, following his participation in a voting rights demonstration near the Capitol Building in Washington, DC. Officers also detained at least 20 other attendees.
BREAKING: Rep. Jamaal Bowman (D-NY) was arrested Thursday alongside at least 20 others during a voting rights protest, for blocking one side of the North Barricade of the U.S. Capitol building. pic.twitter.com/sF7hcLkN1a

— The Hill (@thehill) January 20, 2022
The statement also expressed that the protest was nonviolent. Specific reasons for the arrests are not clear at this time. However, US Capitol Police did say they conducted arrests concerning protestors' refusal to leave a driveway leading to the Capitol Building. Some of those involved were engaged in a hunger strike.
The voting rights legislation was unsuccessful after failing to garner any GOP support. Moderate Democratic Senators Joe Manchin (WV) and Kyrsten Sinema (AZ) also voted against the proposal after repeatedly indicating they would take this step. Liberals remain highly critical of the two Democratic holdouts, particularly Sinema.
What do you think the next chapter in the story of voting rights legislation will be?
Copyright 2022, RepublicanJournal.org