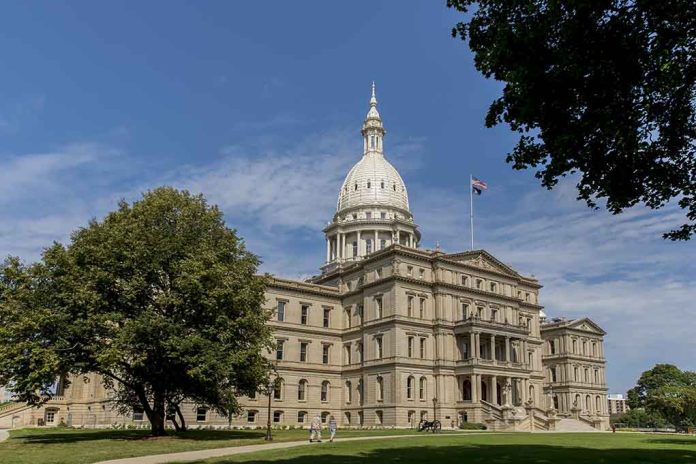 (RepublicanJournal.org) – Michigan Gov. Gretchen Whitmer (D) signed a new anti-gun "red flag" law on Monday, May 22. The legislation comes in response to the state's second deadly mass shooting this year. It allows individuals close to potential shooters to raise concerns over mental health issues that, left unchecked, might prove lethal.
NEW LAW — Gov. Whitmer is going to sign Michigan's so called "red flag" gun control law this afternoon. https://t.co/sTq348uXe3

— ABC12WJRT (@ABC12WJRT) May 22, 2023
Michigan joined California, Florida, Illinois, Nevada, New York, and 15 other states in establishing the firearm regulation, according to Newsmax. It follows at the heels of Minnesota, which signed similar legislation last week and added required background checks for prospective gun purchases.
The Associated Press reported that Whitmer signed the new law into effect in Detroit, a hotbed for gun violence in the state. Former Arizona Congresswoman Gabby Giffords (D), who sustained a headshot wound in 2011, leaving her with brain damage, attended the event. Numerous progressive lawmakers and survivors of shattering gun violence joined her.
Whitmer said during the event that too many times, loved ones of at-risk individuals have reached out to law enforcement in vain and "expressed concern in advance about that mass shooter's intentions." Soon, officials might be able to act before anyone gets hurt or killed. The change will go into effect next spring.
NPR reported that most Americans support red flag laws, although some conservative groups are suspicious of where the slippery slopes of gun confiscation may lead. Some Michigan sheriffs disapprove of the new law, insisting it violates the Second Amendment. They have vowed not to enforce it.
Michigan's new law will give family members, roommates, former dating partners, mental health professionals, and police officers the ability to petition the court to take firearms from an unstable person's possession. A judge will have 24 hours to determine whether to pursue a case, with an additional two weeks to set a hearing date. The subject must then prove they are not a threat to themselves or others, or they will lose any guns they possess for one year.
Copyright 2023, RepublicanJournal.org