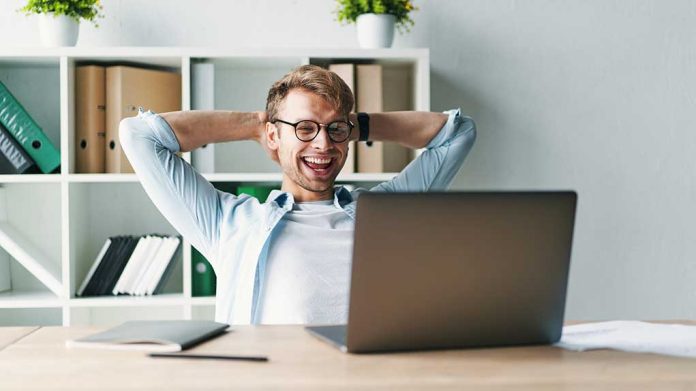 Katie Hobbs Runs to the Bathroom to Dodge Reporter
(RepublicanJournal.org) – Arizona Secretary of State Katie Hobbs, a Democrat, is currently running for governor in her home state. Part of being a leader means interacting with the press, even if it makes you uncomfortable. But Hobbs must've missed that memo, as she recently attempted to avoid a reporter, making a spectacle of herself by hiding in a bathroom until help arrived.
RC Maxwell, a journalist with Project Veritas, approached Hobbs as she was eating. After identifying himself, Maxwell attempted to ask the Democrat about prior statements she made that were recorded by someone operating undercover at the time.
One of the issues the journalist brought up was the Secretary's unwillingness to talk about politics. Hobbs didn't offer the young reporter an answer. She went into the restaurant's bathroom to hide instead.
BREAKING: @katiehobbs and Head Consultant @jwolf722 hide out in restaurant bathrooms before fleeing scene to avoid answering Project Veritas Action questions on undercover revelations

"Katie it's me…We're gonna leave, there's a car right here."#AZGov pic.twitter.com/gQuzzxnhTG

— Lara Logan (@laralogan) October 12, 2022
Joe Wolf, the Hobbs' campaign consultant, eventually showed up to escort her from the bathroom. Maxwell attempted to question Wolf; the consultant also ignored him.
As Wolf walked Hobbs to a car parked outside, the reporter also asked if one of her campaign cars had an AR-15 inside of it. He questioned whether the phrase "rules for thee, but not for me" was an issue for her campaign.
Again, Maxwell failed to get an answer. Hobbs got in the car and left.
Hobbs has repeatedly gone back and forth with her Republican opponent, Kari Lake, throughout the race. At one point, she denounced her, calling her a conspiracy theorist and refusing to debate her because it would be mayhem. But Hobbs has pushed for back-to-back town halls featuring one candidate at a time.
Lake, on the other hand, has repeatedly encouraged the idea of a debate, telling Hobbs to pick the date, time, location, moderator, and questions. Lake said the Democrat would rather hide from voters and run retaliatory ads. It's easy to see why she might think that, given her recent interaction with Maxwell.
Copyright 2022, RepublicanJournal.org