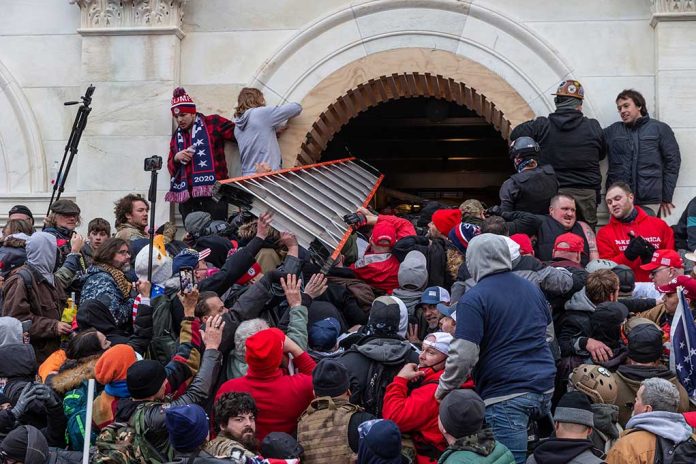 (RepublicanJournal.org) – On January 6, 2021, a mob of citizens bypassed police barriers and entered the US Capitol while lawmakers were trying to certify election results. Capitol Police officer Brian Sicknick had two strokes and died the following day according to the Washington, DC, medical examiner. Despite the autopsy stating that the deceased cop's death was not brought on by chemical irritants from the Capital invasion or injuries from the previous day, his family continues to claim it was. Backing up the family, the chief medical examiner believes the events of January 6 did play a role. Now, family members of the deceased are attacking Fox News host Tucker Carlson for his latest claims about their loved one's death.
On Monday, March 6, Tucker Carlson shared footage he received from House Speaker Kevin McCarthy (R-CA), which showed officer Sicknick walking around the Capitol building, waving along protestors. The conservative host highlighted that the man was, in fact, alive and looking well despite some initial media reports from January 6 claiming he had already died. Speaking with Washington Times journalist Charlie Hurt, Carlson said the twisting of the narrative surrounding Sicknick's death was "shocking" and "perverted."
BREAKING: Tucker Carlson has obtained footage of Brian Sicknick walking around the Capitol healthy after the media claimed he had been killed by Trump supporters pic.twitter.com/Vd5sEu6oqS

— Jack Posobiec 🇺🇸 (@JackPosobiec) March 7, 2023
Early in the morning of Tuesday, March 7, the Citizen Free Press shared a statement from Sicknick's family, saying it was "outraged" over the "unscrupulous and outright sleazy" reporting done by Fox News and Carlson. The family claims their dead loved one "managed to shake off the chemical irritants" visible in the footage. They say he kept working because of his "incredible work ethic" before dying from injuries the next day.
Statement from the family of U.S. Capitol Police officer Brian Sicknick tonight:

"Every time the pain of that day seems to have ebbed a bit, organizations like Fox rip our wounds wide open again and we are frankly sick of it. Leave us the hell alone…" pic.twitter.com/gzawGEQuCw

— Citizen Free Press (@CitizenFreePres) March 7, 2023
Capitol Police Chief Thomas Manger also shared his displeasure with Carlson on Tuesday. In a letter obtained by NBC News, Manger wrote that Carlson "conveniently cherry-picked" a snippet of footage from the over 40,000 hours of video that fit the conservative news network's agenda. He emphasized that he and his peers believe that if Sicknick had not been on duty during the stressful events of January 6, he "would not have died the next day."
Copyright 2023, RepublicanJournal.org