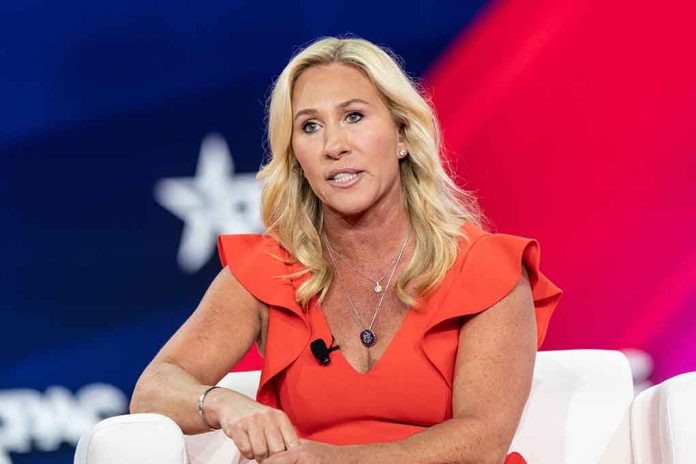 (RepublicanJournal.org) – After the Chinese spy balloon floated across the United States starting at the end of January, many Americans raised concerns over why authorities allowed it over the US in the first place. After days of floating, collecting surveillance from the air, and worrying Americans under its path, President Joe Biden finally ordered the military to shoot it down over the Atlantic Ocean. Now, Representative Marjorie Taylor Greene (R-GA) is calling Biden out for his slow-moving response against the balloon and telling listeners that her constituents believe he "completely failed us."
Before President Biden delivered the State of the Union address on Tuesday, February 7, Representative Greene told Breitbart News that the US leader is "owned by China." To make her point, the Georgia lawmaker boldly brought a large white balloon to the interview with her.
Watch — Rep. MTG Bursts Biden's Balloon: 'He's Owned by China!' – HE IS ABSOLUTELY OWNED BY CHINA AND UKRAINE https://t.co/UgkIYPjtZS

— Jamie (@jamie_l_dawson) February 8, 2023
In fact, the Chinese balloon in question did float near multiple military installations, including Malmstrom Air Force Base in Montana, which houses nuclear weapons, and Offutt Air Force Base near Omaha, Nebraska, home of the US Strategic Command overseeing the US nuclear response force. The CCP may have collected valuable information about the military with this balloon.
While many Americans expressed concerns, Pentagon Spokesman Brigadier General Patrick Ryder sought to calm worries. According to The New York Times, by allowing the balloon to float across the US and near sensitive facilities, the US intelligence community gained "a unique opportunity to learn a lot more" about the CCP's balloon program.
Disagreements over how officials handled the spy balloon persist, and Representative Greene wants to ensure Americans continue talking about it rather than only speaking about the rough economy these days. She also reminded Americans about the investigations into Biden's son's business dealings in China that still could involve the rest of the family. Perhaps any potential connection to China could explain the slow military response to the balloon. If so, Greene wants to know about it.
Copyright 2023, RepublicanJournal.org