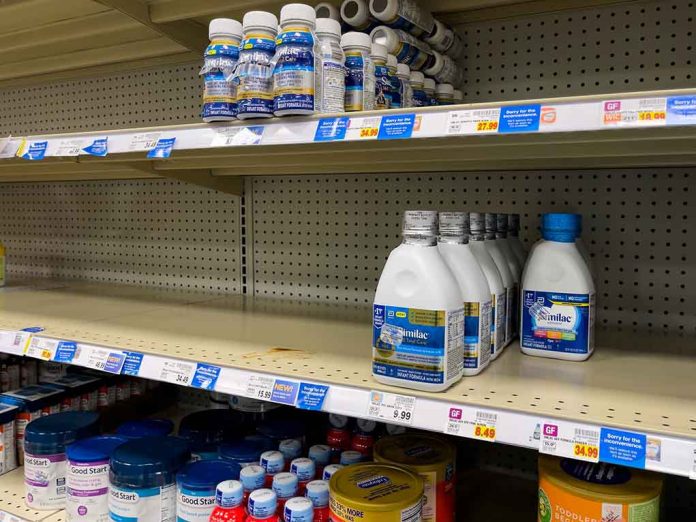 Congresswoman In DANGER – Secret Messages Received!
(RepublicanJournal.org) – The baby formula shortage has quickly become one of the most pressing issues facing the United States over the last couple of weeks. Following a contamination event at an Abbott manufacturing facility in Michigan this past February, a widespread recall added fuel to the fire of existing shortages related to COVID-19 and supply chain problems. One Republican lawmaker has targeted President Joe Biden over his handling of this issue, and it's safe to say liberals aren't happy about it.
Kat Cammack Says She's Getting Death Threats
On Monday, May 16, Rep. Kat Cammack (R-FL) appeared on Fox Business to criticize the Biden administration over various aspects of the baby formula shortage. She accused Transport Secretary Pet Buttigieg of being dishonest in his claim that the administration had been on top of the crisis since its outset.
Cammack showed viewers footage she filmed during a trip to the southwest border. It showed stockpiles of baby formula, as well as baby clothes and wipes, in a border facility. Cammack said she felt compelled to make the trip because liberal commentators and government officials had accused her of lying about the subject.
Now, Cammack says her attempts to expose the administration have attracted death threats. During an appearance on Newsmax's "Wake Up America" program, the Florida lawmaker said, "every liberal outlet you can imagine" went after her once she published the video from the border, naming CNN, Vanity Fair, and Rolling Stone. She added that the number of "death threats" she was receiving had increased dramatically, but the legislator didn't mention who had made the threats.
Regardless of this issue, Cammack doubled down on her stance on the baby formula shortage. She explained that the imagery she shared from the border was hard evidence of the Biden administration's failure to put Americans first. She clarified that she was not advocating depriving children at the border of food or other necessities. She did say, however, that the border stockpiles indicated foreknowledge of a shortage on the part of officials. Why did they hoard supplies of baby formula that would otherwise have gone to American families?
A Way Out of the Crisis?
Over the last number of days, officials have optimistically discussed Operation Fly Formula. On May 22, the White House confirmed it had secured a second flight to transport thousands of pounds of baby formula into the country from Europe. The first flight of this nature arrived in Indiana, carrying 78,000 pounds of formula.
Do you think the Biden administration is capable of lifting America out of this crisis?
Copyright 2022, RepublicanJournal.org