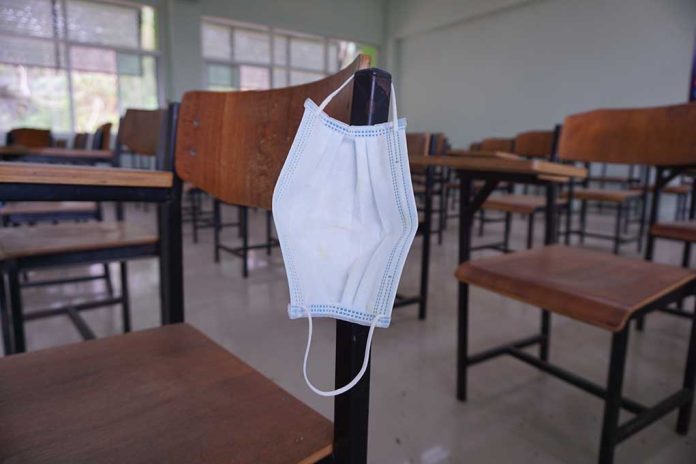 (RepublicanJournal.org) – As the debate around mask and vaccine mandates rages on, proponents of mask-wearing have come up with increasingly controversial ways to enforce the practice. One school district in Colorado is now dealing with a public relations nightmare following revelations about a draconian strategy to encourage mask-wearing in one of its schools.
Officials with the Colorado Springs school district have opened an investigation following reports that teachers were taping masks to students' faces in one school.
The issue initially came to light after a photo showing a Chinook Trail Middle School student with a mask attached to her face with tape began to circulate online. Several parents have since confirmed that their kids were also forced to endure such a bizarre practice.
Colorado school district investigates after parents say teachers taped masks to students' faceshttps://t.co/iYyGEyyHaw

— Fox News (@FoxNews) October 21, 2021
The mother of the young woman in the photo, who chose not to share her full name, strongly criticized the strategy. She claimed her daughter, a sixth-grade student, only received one warning about her mask before teachers taped it in place. The concerned parent questioned why the school was pursuing a policy of "not letting you breathe."
The school district is in the process of conducting interviews with over 100 staff members and students to learn more about the problematic policy.
Copyright 2021, RepublicanJournal.org