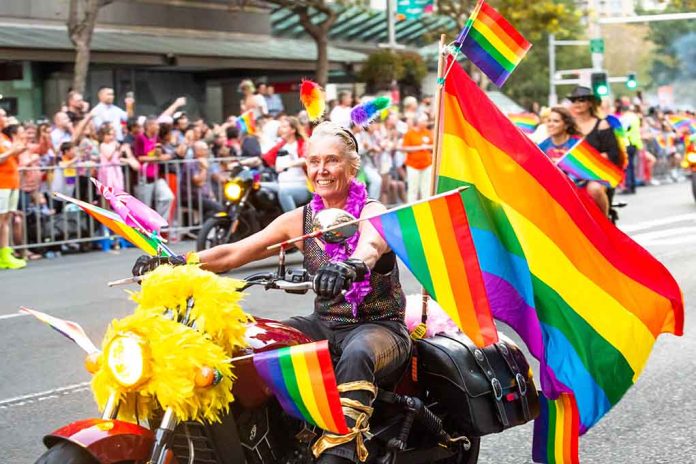 Leftists Perform NASTY Act In Front Of Children
(RepublicanJournal.org) – On June 26, thousands gathered for the Seattle Pride Parade in Washington to commemorate Pride Month. During the event, a group of ten cyclists rode in circles in front of the crowd to promote body positivity, which might have been fine if they weren't completely naked and children hadn't been present. The exhibitionists included both men and women.
Children Watch Nude Cyclists at Boy Scout-Led Seattle Pride Parade https://t.co/W1JOrt9REQ via @BreitbartNews

— Premiere Communications (@Premiereplusinc) June 27, 2022
Clearly, the parade was meant for people of all ages, as the Boy Scouts of America led the procession carrying American flags as well as pride flags. Journalist Jonathan Choe said people were enjoying themselves during the event.
Abortion rights activists also marched in the parade, receiving a strong reaction from the Seattle crowd following the recent Roe v. Wade decision from the Supreme Court.
Other activists from Amazon.com joined the event to demand those in charge of the company remove "transphobic books" they claim spread hate and make work environments hostile for some employees.
TRANS RIGHTS: @amazon workers representing activist group within company called "No Hate At Amazon" at Seattle Pride. They allege management is "spreading a culture of hatred through transphobic books" and "creating hostile workplace environment for transgender employees." pic.twitter.com/hZ6G12w3wG

— Jonathan Choe Journalist (@choeshow) June 26, 2022
Small children lined the streets, watching the events unfold, including witnessing the naked bikers looping around in front of them and the rest of the confused parade-goers.
Do you think this event was appropriate for children, considering the subject matter and the nude parade participants, or do you feel it would have been better to leave the younger crowd at home?
Copyright 2022, RepublicanJournal.org