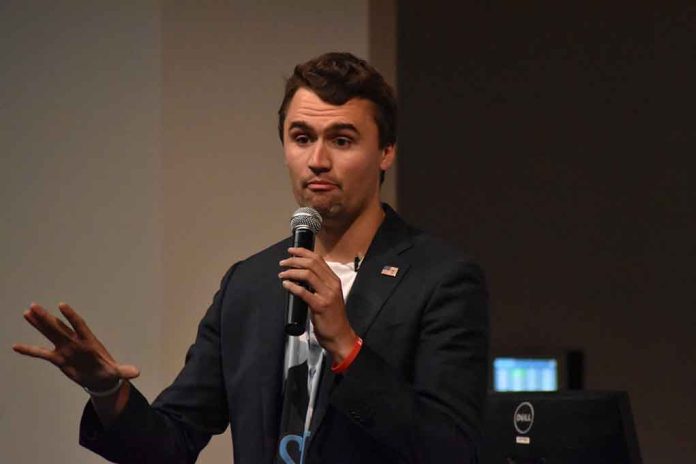 (RepublicanJournal.org) – Protestors incited chaos at a speaking event hosted by the University of California (UC), Davis on March 14. Turning Point USA (TP USA) founder, Charlie Kirk, was a guest of the school's chapter in the organization, slated to speak on conservative topics. Liberal demonstrators responded with violence.
Protest turns violent at TP USA event at UC Davis https://t.co/zLIlRjGmaq #OAN

— One America News (@OANN) March 15, 2023
Kirk became the subject of the Left's ire after an editorial assistant for the Sacramento Bee, Hannah Holzer, published an opinion piece that put hateful and violent words in the conservative's mouth. Breitbart explains the TP USA speaker had addressed the issue of transgender individuals using locker rooms that did not mesh with their biological sexes. He had said authorities needed to address the issue "the way we used to take care of things in the 1950s and 60s." Holzer jumped to the conclusion that Kirk felt people who identified as transgender "ought to be lynched." She also used the misstatement to justify her attempt to bar the speaker from attending the UC Davis event.
With threats to take the Sacramento Bee to court for libel and defamation, Kirk forced the publication to retract the statement, but the media outlet had already inflicted the damage. During the protests, some participants smashed windows attempting to reach the venue. Others threw eggs and used pepper spray to block attendees from entering the venue. Authorities arrested two people for defacing a wall with graffiti. OAN reported about 100 demonstrators came for the event, injuring one officer in the conflict.
TP USA is a non-profit organization seeking to fight "discriminat[ion] against conservative students and advanc[ing] leftist propaganda in the classroom," according to the American Association of University Professors. Supporters say the group, which has "over 300 chapters on college campuses across the country," trains students to promote "freedom, free markets, and limited government." Opponents believe members unfairly target college professors, trolling them on social media and harassing them for sharing liberal posts and scholarly publications.
Copyright 2023, RepublicanJournal.org