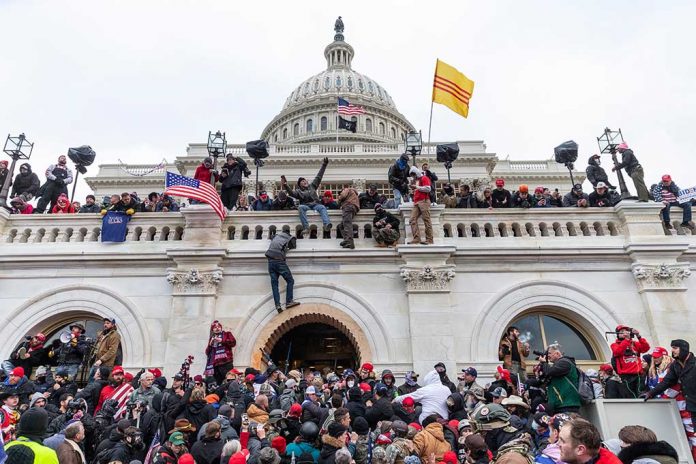 (RepublicanJournal.org) – In the mass confusion at the Capitol Building on January 6, there was some violence and, tragically, several deaths. One of those who died was Ashli Babbitt, a veteran of the US Air Force, shot while attempting to climb through a door leading to the House of Representatives Congressional Chamber. Now, the police officer who killed her has revealed his identity.
Lt. Michael Byrd of the Capitol Police gave an interview with NBC's Lester Holt this week to tell the story of what happened that day, as well as his experiences since. He reported he'd received racist abuse and threats over the shooting, and people have said "vicious and cruel" things.
The interview aired on August 26, three days after an announcement from the Capitol Police stating Byrd would not face disciplinary action over Babbitt's death. The force concealed his identity for his protection, but Byrd chose to come forward.
The officer defended his actions on January 6 during the interview, claiming he saved "countless lives."
Lt. Michael Byrd, the Capitol Police officer who fatally shot a rioter during the Jan. 6 attack, said that pulling the trigger had been a "last resort" that stopped the mob from killing lawmakers.

"I know that day I saved countless lives," he said. https://t.co/0v7nLqEr2j

— The New York Times (@nytimes) August 27, 2021
However, not everyone agrees with this assessment. Ashli Babbitt's husband plans to file a lawsuit against the Capitol Police, alleging Byrd should have used less lethal force. Former President Donald Trump also criticized the shooting at the time, claiming Babbitt was "murdered," and the officer "should never have pulled the trigger."
Copyright 2021, RepublicanJournal.org