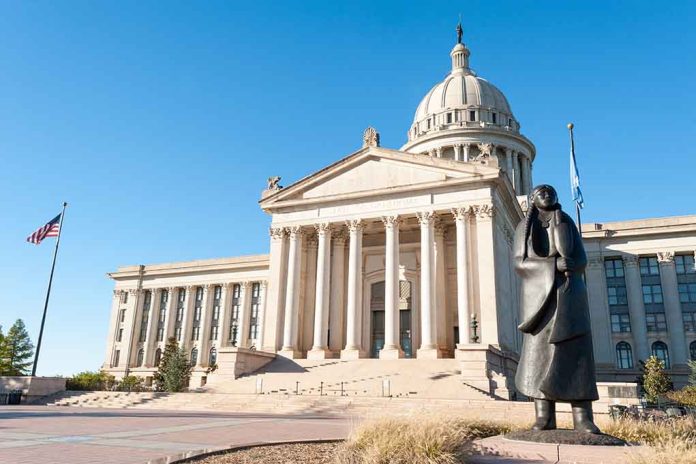 (RepublicanJournal.org) – Congress invites the President of the United States to share a State of the Union speech with Americans every year, and many state legislatures extend similar invitations to their governors. In Oklahoma, the governor's State of the State address for 2023 was met with a multitude of protestors speaking out against his conservative agenda.
On Monday, February 6, activists in Oklahoma pushing for rights for transgender people arrived at the State Capitol in Oklahoma City. The protestors chanted phrases including "this is our house" and "my body, my freedom." At the same time, Governor Kevin Stitt (R) delivered his planned remarks, which included highlighting how children "can't vote, can't purchase alcohol, [and] can't purchase cigarettes," so they should not be allowed to have life-changing gender surgeries.
Looks kinda insurrectiony… Trans Lives Matter protesters occupy Oklahoma Capitol building to fight GOP bills that bans gender-confirming surgery for under 21s https://t.co/dIWf8naehu

— A.C. Spollen (@ACSpollen) February 7, 2023
Governor Stitt then asked lawmakers to approve legislation that would "[ban] all gender transition surgeries and hormone therapies on minors" residing in Oklahoma. The state leader was likely referring to Senate Bill 129, also known as the Millstone Act, which would stop medical providers from performing gender-altering surgeries and hormone therapies to any residents under the age of 26.
Protestors spoke out against this bill and Senate Bill 252, which would stop anyone aged 17 or younger from getting any form of gender transition surgery. According to KOCO, protestor Ramona Diaz said she was showing up at the Capitol to demonstrate to her community that trans people "are not a threat." She adds that despite efforts, she believes that "discrimination [is] only deepening."
As Oklahoma watches its people, legislators, and governor all debate opposing views on trans rights, protecting the next generation, and what is considered healthcare, this is the time for citizens to share their desires with their prospective lawmakers. From there, these congressmen and women can fight for the beliefs and rights of their constituents.
Copyright 2023, RepublicanJournal.org