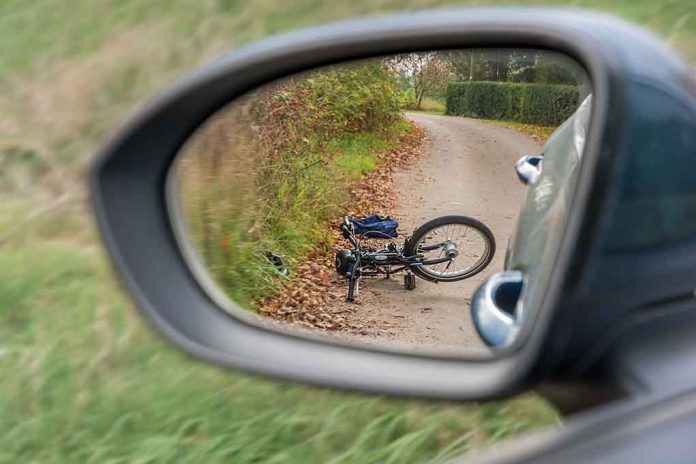 Democrat CAR CRASH Scandal – Resignation Requested!
(RepublicanJournal.org) – On July 19, a traffic camera caught New Jersey Councilwoman Ann DeGise (D) allegedly running into a bicyclist, which sent him flying, and drove off without so much as stopping to check on him. Now, several people in the community are calling for the local leader's resignation. Although it took her a whopping six hours to report the incident to the police, the politician has no intention of leaving her position.
WATCH: New Jersey Democrat Allegedly T-Bones Uber Eats Bicyclist, Keeps Going https://t.co/dOqqQyY06m pic.twitter.com/Qen0iKyV28

— Daily Wire (@realDailyWire) July 29, 2022
The collision occurred on Martin Luther King Jr. Blvd. in Jersey City, when reports say DeGise blew through an intersection in her Nissan SUV and struck an Uber Eats delivery man. The victim, Andrew Black was physically okay, although he was understandably shaken. He didn't have the right of way in this situation, but the bigger issue is that the councilwoman didn't have the common decency to stop her vehicle to check on the civilian. Some of the alleged perpetrator's peers have responded publicly on her seeming lack of personal responsibility, and her constituents appear just as unhappy.
Councilman Frank Gilmore stated it was difficult for him to watch the footage and see his colleague violating the public's trust. Another fellow group member, James Solomon, signed a petition demanding she leave her job. Currently, the document has over 3,800 signatures.
NBC New York reported that authorities charged DeGise with failure to report and "leaving the scene." The victim stated he now suffers from PTSD.
Do you think she should have stopped to help the cyclist? Do you feel the New Jersey council member should give up her position?
Copyright 2022, RepublicanJournal.org