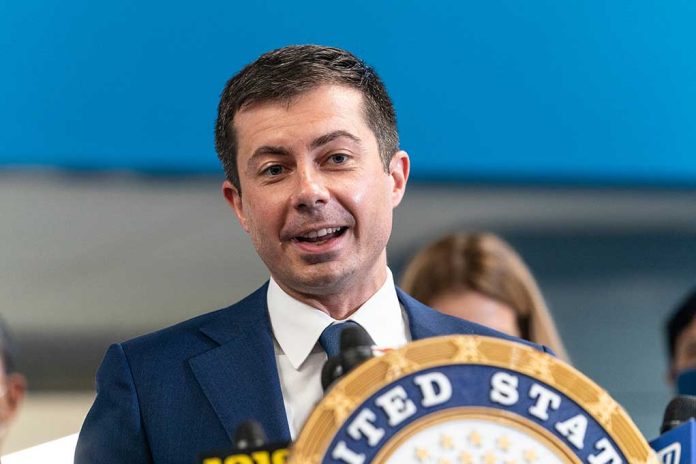 (RepublicanJournal.org) – In 2020, former mayor of South Bend, Indiana, Pete Buttigieg ran for president, but he pulled out of the race after failing to rally enough support for his campaign. When President Joe Biden took office, he invited the former candidate to become his Secretary of Transportation despite Buttigieg's little experience in the field on a national level. Now, Buttigieg is facing criticism over his response to the train derailment in East Palestine, Ohio, that left a community reeling from toxic chemicals released into their town. In a recent visit to the town, he harshly criticized conservatives who have been critiquing his job performance.
In an interview with CNN published on Monday, March 6, Buttigieg called out the "East Coast elite" for attacking his handling of national transportation issues. He pointed out that the same people prioritize "tax cuts for the wealthy" and nixing "not just rail safety regulations, but the EPA" too. While he did lash out at his critics, he also admitted that he should have traveled to East Palestine earlier.
Pete Buttigieg Triggered By Claims He Only Went To East Palestine Because Trump Did https://t.co/wQre9TPOS2 pic.twitter.com/xL51fylYWg

— Daily Wire News (@DailyWireNews) March 5, 2023
Buttigieg, who made it to the spot of the train derailment a day after former President Donald Trump visited, called the 45th president's visit "somewhat maddening." He attacked the former US leader's policies and decision to hand out campaign swag during his visit.
Some Americans critical of Buttigieg also called him out for the shoes he was wearing during his visit, which appeared to be dress shoes rather than work shoes that would have been more appropriate for a visit to a toxic chemical spill and train disaster site. Buttigieg pointed out that criticism was ridiculous and completely unnecessary, as the attention should be on "an agenda that will save lives on our railroads" instead of his wardrobe decisions.
Nearly everyone in politics is subject to criticism at some point or another, and Buttigieg has certainly gotten his fair share of it. With this reproach, Americans can learn a lot about a person's character and future plans by how the individual responds to it.
Copyright 2023, RepublicanJournal.org