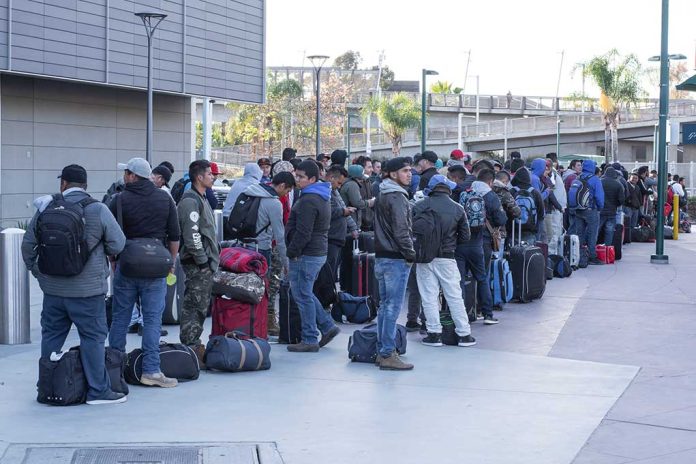 (RepublicanJournal.org) – The crisis at the southern border continues on, possibly poised to become worse than it already is. Authorities at the US-Mexico border have seen a recent surge of immigrants. The influx comes as the Biden administration is set to end former President Trump's Title 42.
Immigrants are flooding the U.S.-Mexico border to beat the rush before the pandemic-era Title 42 policy instituted by the Trump administration ends next week. https://t.co/ekbRSNj49v

— NEWSMAX (@NEWSMAX) December 13, 2022
There are nine sectors along the southern border. According to the Washington Examiner, the El Paso Sector alone had an estimated 4,500 immigrants in custody on December 10. Many of the facilities are already overwhelmed, but the problem is likely to get even worse. Raul Ortiz, Chief of US Border Patrol, stated that over a 48-hour period, authorities encountered a total of 16,000 migrants nationwide.
Past 48 Hours…
– Over 16,000 Encounters
– Over $97 Million in Narcotics
– 4 Firearms (1 Stolen)
– 3 Gang Members
– 2 Sex Offenders
– 2 Murderers
– 2 Warrants
– 1 Injury to a Child

Another weekend of hard work by our agents!
THANK YOU for all that you do out there! pic.twitter.com/qvA7MbalvY

— Chief Raul Ortiz (@USBPChief) December 12, 2022
The Examiner noted, according to a senior official with Border Patrol, the surge in crossings is a result of Title 42, a pandemic-era policy that allowed the quick deportation of undocumented individuals, coming to an end. The agent elaborated that people are attempting to cross now, before Title 42 ends, because the process for getting released after that date will take longer than it currently does.
Border processing facilities are already vastly overwhelmed with countless migrants waiting in the streets. Meanwhile, authorities attempt to process the thousands they already have in custody. Once Title 42 ends, Customs and Border Protection will have a harder time processing immigrants, meaning they'll become even more overwhelmed than they already are. The situation could be dire for the US, which already faces a humanitarian crisis.
Copyright 2022, RepublicanJournal.org