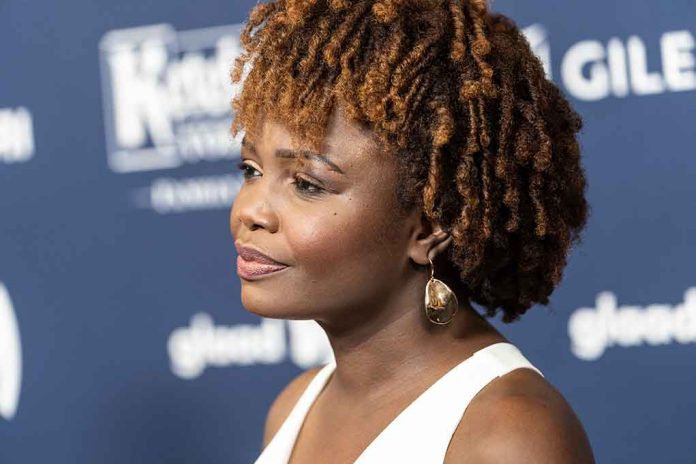 Reporter Corners Karine Jean-Pierre
(RepublicanJournal.org) – White House Press Secretary Karine Jean-Pierre is the face of the Biden administration. When networks have questions, they ask her at press briefings. A reporter recently put Jean-Pierre into a corner during a recent press conference after asking her several difficult questions regarding Biden's student loan debt relief, which the administration is attempting to use COVID-19 to justify.
The Exchange
Fox News correspondent Jacqui Heinrich asked Jean-Pierre if the Biden administration invoking the HEROES Act and using COVID-19 as a reason for doing so was a justifiable move. Heinrich questioned whether considering the COVID-19 pandemic a national emergency under the act was a fair way to justify the passage of Biden's student loan relief.
Jean-Pierre responded with a lengthy statement, explaining that when the president started his term in the Oval Office, Americans were struggling with the economic ramifications of the pandemic. The press secretary asserted the Trump administration mishandled the nation's response to COVID-19. Jean-Pierre claimed Biden wanted to give Americans extra breathing room and that it came in the form of student debt relief.
The press secretary noted the pandemic continues to be a problem for Americans, arguing the people who will benefit from the relief make less than $75,000 a year. Heinrich continued to press Jean-Pierre on the matter. The reporter asked if there was another way the administration could push through the debt relief. Heinrich mentioned the litigation the current program is in due to the actions the White House has taken elsewhere. Additionally, the president himself claimed COVID-19 was no longer a pandemic, making it seem as though it couldn't be a national emergency.
Jean-Pierre asserted her disagreement with Heinrich, claiming opponents of the relief, which she declared were namely Republicans, didn't want to give middle-class Americans more breathing room. The press secretary continued, claiming the opponents didn't want Americans to be able to put money down on anything or start families, adding the Right was upset that the Biden administration was trying to help these struggling Americans. Jean-Pierre mentioned the opposition was purely political.
Heinrich then asked what would need to happen in order for COVID-19 to not be considered a national emergency. The press secretary's response was simply that Americans needed to receive booster shots because the virus was still a problem in the US. Despite claiming the pandemic was over, President Biden still recently received his fifth booster shot and urged Americans to do the same.
Who's right here, Jean-Pierre or Heinrich? Should the Biden administration be able to invoke the HEROES Act and claim COVID-19 is a national emergency to justify the White House's student debt relief?
Copyright 2022, RepublicanJournal.org