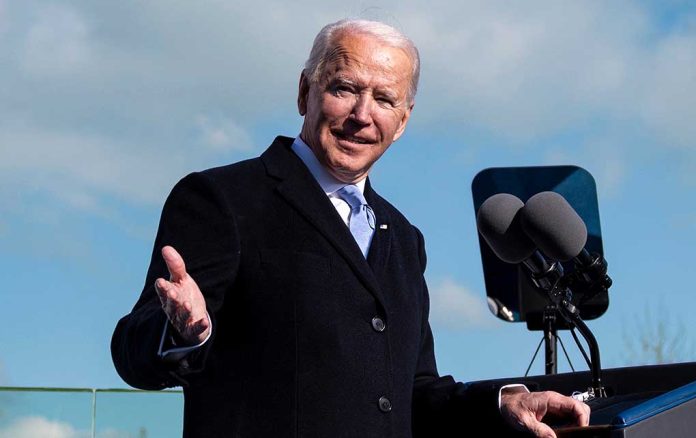 Biden Visits Michigan Plant, Drawing Criticism from GOP
(RepublicanJournal.org) – President Joe Biden recently visited a computer chip plant in Bay City, Michigan, where Republicans were critical of the president's speech. Afterward, Biden didn't get the goodbye he was likely hoping for as protestors gathered outside the facility before his departure.
Some protesters now gathering along the road ahead of Biden's departure from Bay City, with his speech at the manufacturing facility concluding a few minutes ago pic.twitter.com/0RFK0BMPzC

— Brendan Gutenschwager (@BGOnTheScene) November 29, 2022
Protestors rallied together alongside the road as Biden wrapped up his speech at the SK Siltron CSS plant. A video shows the hecklers chanting "let's go, Brandon" as police, Secret Service, and the president's limo passed by.
Prior to the unpleasant departure, Biden was touting his economic success. The president mentioned the passage of the American Rescue Plan, which many people feel only added fuel to the country's already red-hot inflation, and he even took credit for the drop in fuel prices. The commander in chief did admit that the last few years have been hard on American families and challenges still remain for many. He added that there are still positives, declaring SK Siltron's expansion was one of them.
Despite the potential for a beneficial economic impact, Michigan Republicans still criticized the president, with some bringing up the fact that prices of food and other commodities remain elevated. According to the Detroit Free Press, US Representative John Moolenaar (R-MI) declared the president's agenda has already caused families in Michigan to suffer, claiming Biden's spending contributed to the problem.
Copyright 2022, RepublicanJournal.org