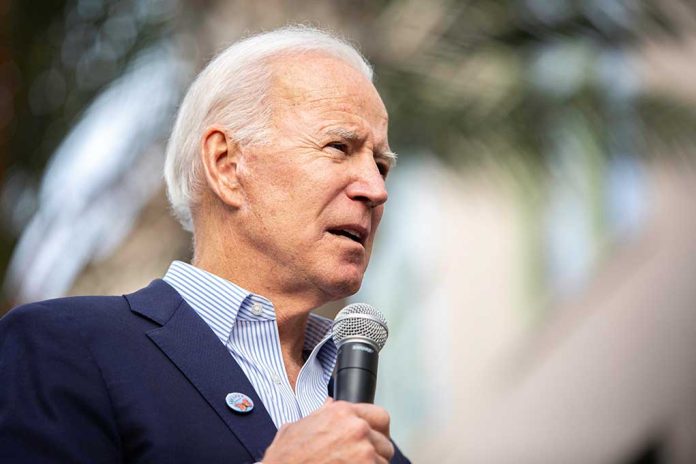 (RepublicanJournal.org) – After months of speculation and considering other Democratic candidates, President Joe Biden officially announced he will be vying for reelection alongside his current vice president, Kamala Harris. While most Americans expected this move, his campaign video and some of the merchandise in the commander in chief's campaign store have certainly raised some eyebrows.
On Tuesday, April 25, Biden announced he is hoping to run the United States government for a second term. His first campaign video doesn't beat around the bush, either. It starts with footage from the January 6 protest on Capitol Hill before turning to a video of Joe Biden telling Americans he will secure "freedom" for all and "fight for our democracy." However, as visitors to the campaign website dig further, they will stumble upon less expected sights, such as the error page.
This page has a "Dark Biden" meme, with a silhouette of the president with red lasers shooting out of his eyes. Underneath are the words "You're lost, Jack." Below the weird image is the phrase, "Let's get you back on the rails" alongside a link to purchase a t-shirt with the strange meme.
Biden Campaign Site Displays Creepy 'Dark Brandon' Memehttps://t.co/AHbZIm1NqB

— Mediaite (@Mediaite) April 26, 2023
If people chose to follow the advertisement to the official campaign store, they can purchase both a "Dark T-shirt" with the meme with the description that it is "best worn while vanquishing Malarkey" or a coffee mug with the same image. While this odd choice is not a typical one for campaign merchandise, it certainly has people talking.
The recent announcement from Biden and his team has finally quelled speculation about the president choosing someone else to run for the Democratic spot on the presidential ballot. However, the sitting leader still has plenty of work to do if he wants to get reelected. Many voters still wonder if Biden can fulfill the duties of commander in chief, as he is already the oldest sitting president and will be 82 years old if sworn in for a second term.
Copyright 2023, RepublicanJournal.org