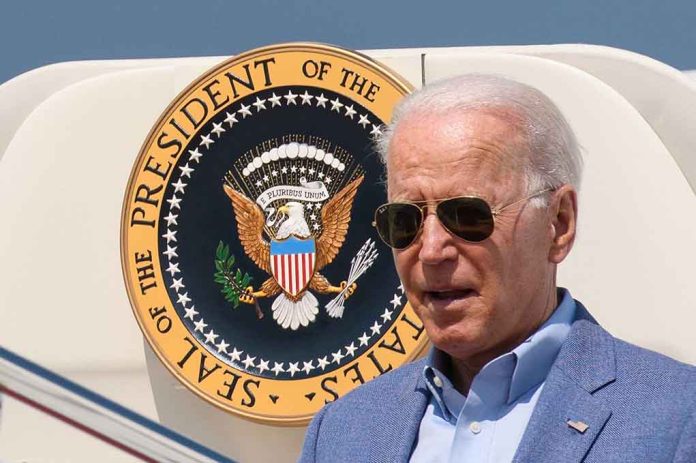 (RepublicanJournal.org) – After a nearly 22-hour travel day using a small C-32 plane, motorcades across international borders, and a train through the Ukrainian countryside, President Joe Biden and a few select staff arrived in Kyiv, Ukraine, on Monday, February 20. The unannounced trip was certainly risky, but the American leader believed the show of support for the nation, which has been under attack by Russia for almost a year, would be worth it. During the visit, Biden left a handwritten note for the Ukrainian leader in his guestbook. However, the words within did not go over well with all Americans.
On the morning of Monday, February 20, which is President's Day in the United States, POTUS shared the note he left with Ukrainian President Volodymyr Zelenskyy on Twitter:
Kyiv has captured a part of my heart.

I knew I would be back. pic.twitter.com/5HYcoEL47Y

— President Biden (@POTUS) February 20, 2023
During the short, five-hour visit, Biden met with Zelenskyy and his wife at the Royal Palace and toured a bit of the capital city. Upon departing St. Michael's Golden-Domed Cathedral, air raid sirens sounded off, alerting the pair that a missile-laden Russian plane was on its way.
The trip and note sparked controversy all across social media. One person criticized the president for saying Ukraine has his heart — not America, East Palestine, or the southern border. Trump's former lawyer Jenna Ellis called out the commander in chief for celebrating another country's leader on a day Americans traditionally set aside to observe US presidents.
This is what you tweet on Presidents' Day?! What about love for AMERICA?

— Jenna Ellis 🇺🇸 (@JennaEllisEsq) February 20, 2023
During the trip, Biden told Kyiv leaders the United States would supply another half billion dollars in military aid. This is on top of over $100 billion already sent to the country in the past twelve months. A final aspect of this trip that raised eyebrows is the fact that National Security Adviser Jake Sullivan confirmed US officials told the Russian government about the trip right before takeoff in an attempt to limit missile strikes during the visit. While little is known about this exchange, one major concern is the knowledge that Russian President Vladimir Putin knew about the visit when few others did.
Copyright 2023, RepublicanJournal.org