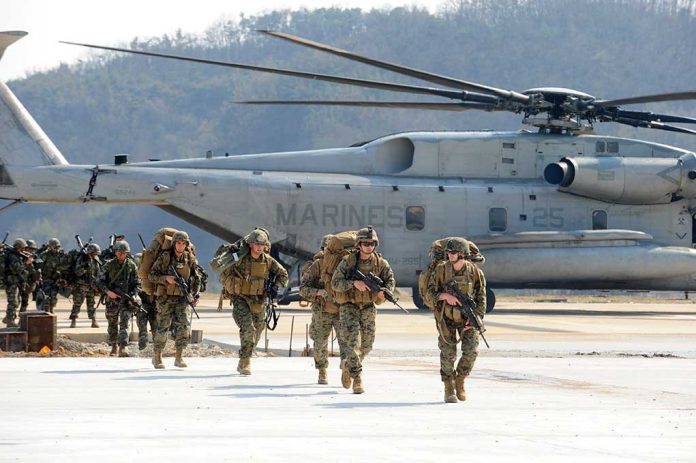 Biden Speaks on Iran Nuclear Deal – Makes OMINOUS Statement
(RepublicanJournal.org) – In 2015, the United States, France, China, Russia, Germany, and the United Kingdom entered into an agreement with Iran primarily to stop them from enriching uranium and becoming a nuclear power in the region. As President Biden tries to renegotiate a deal with the Middle Eastern nation, he recently revealed he is open to using force against them to keep the powerful weapons out of the nation's hands.
Reasons for a New Deal
In 2018, former President Donald Trump removed the US from the deal with Iran. At the time, he wanted to reinstate stricter sanctions against the nation, calling the 2015 deal "defective at its core." He intended to replace the agreement with a better and longer-lasting solution to stop terrorist activity in the region and halt the country's work on ballistic missiles. Following Trump's announcement, Iranian President Hassan Rouhani said he would start enriching uranium "more than before."
Because the adversarial nation has likely been inching closer to obtaining the ability to build and hold nuclear weapons, Biden is more insistent than ever about striking a new deal. So far, his efforts have fallen short. He called the former president's move a "gigantic mistake," mirroring what many world leaders also said at the time. When Trump "walked away" from the region, Biden said he left a vacuum that Russia or China could fill, and he refuses to let that happen.
The US and the Middle East
The United States broke off relations with Iran in 1980 and hasn't had a formal relationship with the country since. Conversely, America has diplomatic relations with other places in the region like Saudi Arabia and Israel.
The president said it's in America's best interest to keep the region stable, so he thinks it's essential to stop Iran from becoming a nuclear power. The Middle Eastern country wants the US to remove its Iranian Revolutionary Guard Corps (IRGC) from its terrorist list to negotiate a new agreement. However, Biden is unwilling to cave on that point and has stood firm.
When Yonit Levi, a news anchor from Israel's Channel 12, asked Biden whether he was willing to take a stronger stance against Iran to stop them from acquiring nuclear weapons, the president confirmed he would do so as a "last resort."
Do you think the United States should establish a presence in the Middle Eastern nation to thwart their nuclear plans? What is your opinion on Trump withdrawing from the 2015 deal?
Copyright 2022, RepublicanJournal.org