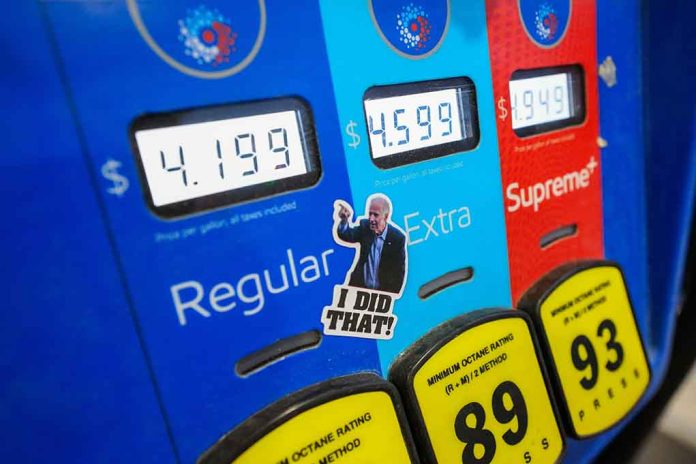 (RepublicanJournal.org) – Everyone has, at some stage, seen some comical form of political satire or commentary. Admittedly, this type of expression can sometimes cross the boundaries of good taste, but it's rare that anything of this kind would warrant criminal charges. However, that's exactly what's happening in the case of one anti-Biden prankster from Pennsylvania.
On Tuesday, April 5, Lancaster Online reported that police had arrested and charged Thomas Richard Glazewski, a 54-year-old man residing in Manor Township. Glazewski received a misdemeanor charge of resisting arrest alongside summary-offense charges of harassment, criminal mischief, and disorderly conduct.
The story began when Glazewski began affixing stickers to gas pumps featuring an image of President Joe Biden saying, "I did that" and "[that's] all me" and pointing to the high prices on the pump. You can see an example of the offending sticker in the tweet below.
Fed-Up American Arrested for Allegedly Putting Biden's "I Did That" Stickers on Gas Pumps https://t.co/OX3VaCjVIg

— Disney News – Beyond The Headlines (@DisneyNews20) April 13, 2022
The authorities arrested him following an alleged disturbance at a Turkey Hill outlet. One Facebook user captured the arrest on video and posted it online. In several footage clips, you can see Glazewski verbally abusing police and apparently resisting arrest.
Glazewski is among millions of Americans disgruntled at skyrocketing gas prices. These increases are partly related to the ongoing war between Russia and Ukraine. However, as critics have highlighted, we could be in a better situation if the Biden administration were willing to promote domestic oil and gas production.
Copyright 2022, RepublicanJournal.org