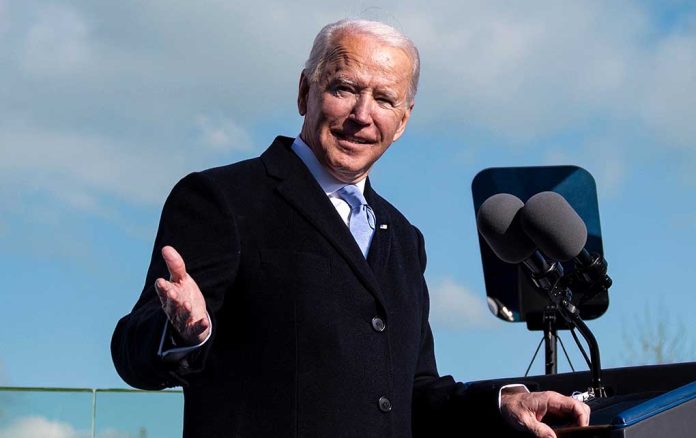 (RepublicanJournal.org) – President Joe Biden appeared to go off-script during an event commemorating the reauthorization of the Violence Against Women act, offering the crowd an analogy that some people might consider off-color, and others… just plain strange. After mentioning a "new civil rights cause of action," Biden went off on a tangent about blackmail that will have political analysts scratching their heads for years to come.
Biden: "I bet everybody knows somebody … that in an intimate relationship, what happened was the guy takes a revealing picture of his naked friend, or whatever, in a compromising position and then … blackmails or mortifies that person." pic.twitter.com/3auUGy0yqr

— The Post Millennial (@TPostMillennial) March 16, 2022
Biden touched on the very real misuse of personal pictures, photographs, and video, but failed to convey how the practice adversely affects women when his speech took a turn toward the bizarre.
Biden described how everyone knows someone, or "a friend," to be more precise, who may have taken a picture and threatened to use it or posted it online, using it for blackmail or emotional torture. Mr. Biden didn't elaborate on which of his friends he may have been referring to in what appeared to be a personal story.
According to the National Association of Attorneys General (NAAG), Americans should be concerned about the issue of blackmail as well as unauthorized intimate pictures and videos. It claims the problem grew by 400% between 2016 and 2019. It's unfortunate that Biden's speech on the matter appeared to only attract ridicule.
Many people remember Joe Biden as a great storyteller with a talent for using analogies to make a solid and relatable point. Unfortunately, it seems those days may have passed.
Copyright 2022, RepublicanJournal.org