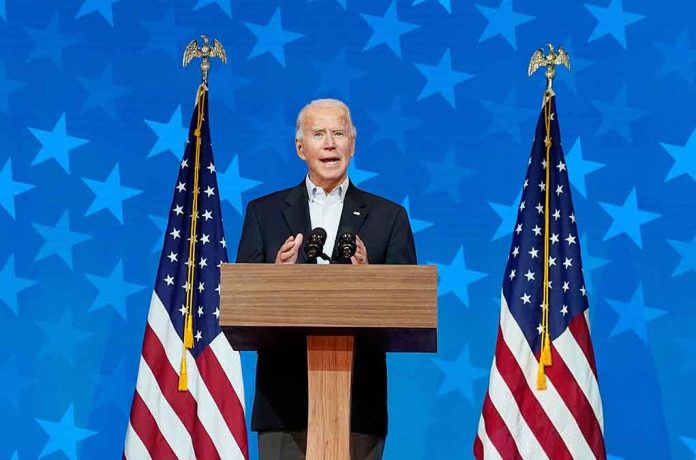 (RepublicanJournal.org) – In his Christmas address President Biden called on Americans to reject the "poison of politics" dividing the country. The problem in the US seems to have gone well beyond the simple disagreements over the best way to run the country, descending into outright partisan hatred. Our government would work a lot better, and generate a lot less resentment, if politicians could rise above it all. However, some are questioning whether Biden actually practices what he's preaching.
The President's Address
In his December 22 Christmas address, Biden railed against "the poison that has infected our politics and set us against each other," calling for the holiday season to serve as a new beginning. He said we should stop looking at each other as "members of Team Red or Team Blue… but as fellow Americans."
The problem is that Biden himself has regularly made extremely partisan comments. Last March he called Georgia's new voting laws — which led to a record turnout in November's midterm elections — "Jim Crow 2.0." In September he claimed the Republican Party was an enemy of democracy and accused "MAGA forces" of wanting to take America backward. Less than a week earlier he said the MAGA movement was "semi-fascism." And he repeatedly painted the GOP as an enemy of the country during the months leading up to the midterms — not the "fellow Americans, fellow human beings" he praised in the Christmas address.
Accusations of Hypocrisy
It wasn't long before the president was called out on this apparent inconsistency. That same day, White House Press Secretary Karine Jean-Pierre spoke to journalists on board Air Force One — and one of them asked if his attacks on Republicans were contributing to our toxic politics. Jean-Pierre was dismissive, saying it was Biden's job to "call out what he sees," then doubling down by repeating the claim that American democracy was under attack.
Not everyone is buying her explanation. Townhall.com reporter Mia Cathell sent a tweet parodying the president, jibing, "Unite, ya filthy animals!" while her boss, managing editor Spencer Brown, told Biden "Spare us, you old grinch." A spokesman for former House Minority Leader Kevin McCarthy (R-CA) recently asked, as reported by Fox News, how Biden can get away with "this phony unity rhetoric" after the accusations he's thrown at Republicans.
There certainly is too much real venom being thrown around in US politics right now, and if that's going to end, then senior politicians need to lead by example. Biden is the most senior of them all, but the example he's set so far has been a pretty poor one.
Copyright 2023, RepublicanJournal.org