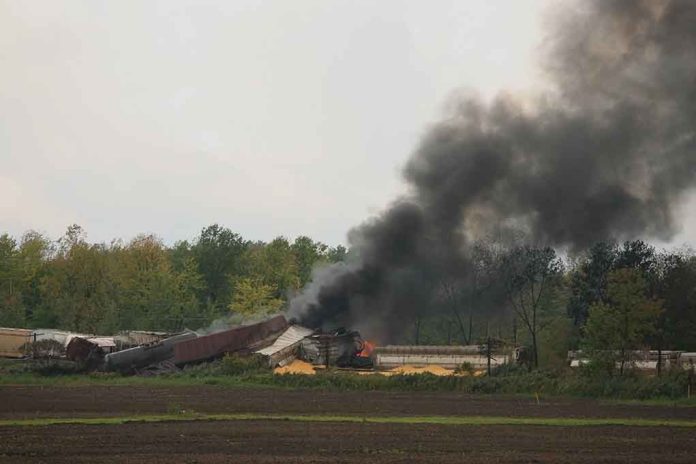 (RepublicanJournal.org) – East Palestine, Ohio advertises itself as "the place you want to be." However, after the events of the past few weeks, many people are likely to want to avoid the area at all costs. On Friday, February 3, a Norfolk Southern train was traveling through the town when it derailed, throwing about 50 cargo cars off the tracks. One-fifth of the derailed cars held hazardous chemicals that ended up burning or being let into the air. Now, Americans are criticizing the Biden Administration's response to the disaster.
Unpacking the February 3 Emergency in East Palestine, Ohio
When 38 cars from a train derailed about 50 miles northwest of Pittsburgh, Pennsylvania in early February, a fire quickly broke out and damaged a dozen more compartments. As the wreckage burned and black smoke rose into the sky, residents became concerned about what they were potentially breathing.
Experts soon announced that the damaged train cars held multiple toxic chemicals that could cause intense irritation and cancer when inhaled. Yet, on February 6, authorities released the toxic fumes from five different tanks to try and prevent any explosions. They burned those fuels in a trench.
In a memo on February 10, the Environmental Protection Agency (EPA) confirmed that the hazardous chemicals in the derailed cars included:
Vinyl chloride
Ethylhexyl acrylate
Ethylene glycol monobutyl ether
Butyl acrylate
Isobutylene
While the federal agency soon followed up with a memo saying it did not find any concerning amounts of these chemicals in local homes, some residents were still concerned about air quality.
Reports of Illness and Death Stemming from the Crash
As of February 8, the Ohio Department of Natural Resources believes the toxic spill and fire killed around 3,500 fish in the local river. That number has likely risen higher in recent days. Some residents have reported that their eyes were burning or noted their animals had become sick or died without any noticeable signs of ailment before the crash. Others highlighted that the stench from the burning train wreck was still hanging around the small town.
Hazardous Materials Specialist Sil Caggiano spoke with WKBN News and compared the disaster to a chemical nuke. They urged residents to see their medical provider as soon as possible to establish their health status in case the toxic spills have long-term effects on them.
Buttigieg Remains Silent for Days on End
Despite the horrific accident that took place, Transportation Secretary Pete Buttigieg did not comment on the disaster until Monday, February 13, a full 10 days after it occurred. Even that small comment simply came on Twitter, seen here:
I continue to be concerned about the impacts of the Feb 3 train derailment near East Palestine, OH, and the effects on families in the ten days since their lives were upended through no fault of their own. It's important that families have access to useful & accurate information:

— Secretary Pete Buttigieg (@SecretaryPete) February 14, 2023
Buttigieg did not talk about the train wreck, although he did manage to make jokes about Chinese spy balloons at various public speaking engagements. Even Former Ohio State Senator Nina Turner (D) criticized him for the silence:
He jokes about balloons while ignoring East Palestine, OH.

We deserve better than this. pic.twitter.com/tAcNniSPMQ

— Nina Turner (@ninaturner) February 13, 2023
Not surprisingly, the East Palestine community is upset about the lackluster response from the Biden administration and is demanding more investigations into their air and water quality. This disaster is truly devastating to the small town and could have repercussions, especially on residents' health, for decades to come.
Copyright 2023, RepublicanJournal.org