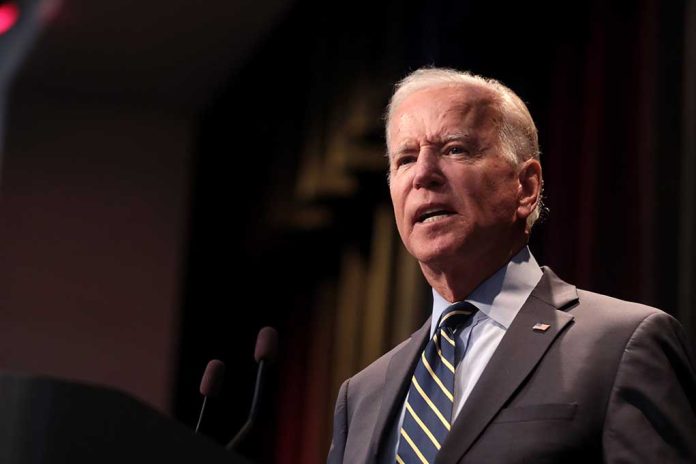 (RepublicanJournal.org) – Tara Reade and seven other women came forward collectively in 2022 with allegations President Joe Biden touched them in ways that made them uncomfortable. The New York Times reported that Reade went further shortly after her initial accusation and claimed the U.S. leader had sexually assaulted her. Reade's comments can be seen below:
I want to make something clear. If something happens to me, all roads lead to Joe Biden.
Joe Biden and DNC political machine threats, bullying and intimidation over the last three years will not work.
I am not suicidal. I should not be under investigation nor am I a foreign…

— Tara Reade 🐎 (@ReadeAlexandra) May 7, 2023
Reade's allegations surfaced during the 2018 presidential primaries. She had worked as a staff assistant in Biden's office between December 1992 and August 1993. She claimed a single incident occurred in which the president forced her against a wall, kissed her, and probed her with his fingers without consent. She noted he "appeared almost puzzled or shocked" when she pulled away, saying aides had told him she "liked" him. The former Senate employee stated that her decision to pursue the case wasn't politically motivated, although Biden hadn't been her first choice for the Democratic ticket.
The recent tweet, which Reade shared on Sunday, May 7, stated she would be happy to "testify under oath in Congress if asked to do so," adding, that "the Biden corruption must end." She thanked Reps. Marjorie Taylor Greene (R-GA) and Matt Gaetz (R-CA) for offering her an invitation to testify, tagging both lawmakers and applauding them for being concerned about "the truth."
Reade's tweet included additional statements that implied she felt her life might be in danger — specifically if she happened to meet some type of ill fate, "all roads lead to Joe Biden." After noting that years of intimidation hadn't swayed her, the former staffer included the insistence, "I am not suicidal."
POLITICO attempted to discredit Reade in 2020, delving into her past and painting her as a "manipulative" liar with a long list of enemies. Reade fired back a few days later on Twitter, threatening to sue one of the sources who'd spoken against her.
Copyright 2023, RepublicanJournal.org