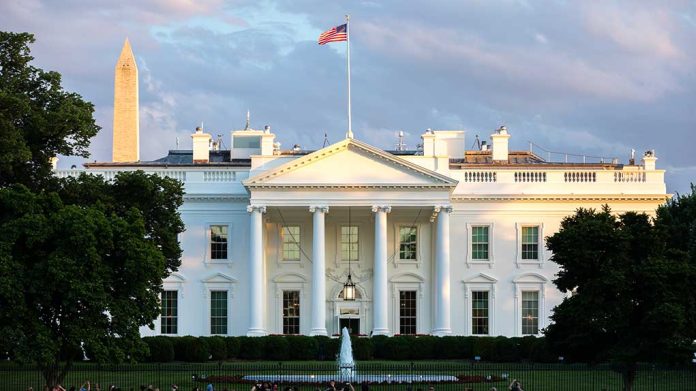 (RepublicanJournal.org) – Outrage described the country's mood last week when a trans activist, fresh from a meeting with President Biden, exposed fake breasts on the White House lawn. The Biden administration says it's shocked by the disrespectful display and has banned the offender from future White House events. Conservative podcaster Ben Shapiro isn't convinced, though.
Shock Display at White House Party
On June 10, the White House held a party as part of the month-long Pride celebration, which has increasingly turned into a promotion of trans activism and gender ideology. President Biden attended the party and spoke to activists on the South Lawn of the presidential residence. One of those activists was 27-year-old Rose Montoya, a surgically-altered trans-woman from Idaho.
Moments after talking to Biden, Montoya pulled down the top of her dress and played with her own breasts. She then posted a video of herself and two topless trans-men activists on Instagram, with the White House clearly visible in the background. Just in case there was any doubt, viewers could hear whoever shot the video asking, "Are we topless at the White House?"
Unsurprisingly, there was an immediate backlash against this blatant disrespect. Montoya defended her display by saying it's not illegal to be topless in Washington, DC, and claiming, "All you're doing is affirming I'm a woman." However, the snowballing reaction forced the White House to react. On June 13, White House mouthpiece Karine Jean-Pierre called the incident "unacceptable" and "unfair" and added that the White House wouldn't invite the perpetrators again.
Shapiro Questions Ban
The White House response didn't convince everyone. On June 14, Ben Shapiro, the conservative podcaster and former Daily Wire editor, took aim at Jean-Pierre and said, "she was so offended… So here is the thing. We do not believe you." He pointed out that some people now think the Biden administration is finally pushing back against the excesses of trans activists but said this is the same administration that's been telling us, "we can't have a man jiggling his fake breasts on his TikTok at the White House lawn, but we have to read 'Gender Queer' to your third grader."
Even other trans activists blasted Montoya's obscene stunt. One comment on her social media said, "We are trying hard to just be accepted as regular folks, not the people like you had to be," while another said, "Stay the hell home if you have no self-control." One accused Montoya of "[reinforcing] the negative stereotype that we cannot act appropriately" and said they were "appalled." One even said Montoya was encouraging "haters to hate more" — and added, "In this situation, they'd be correct."
Montoya is now teasing social media followers with the promise of an upcoming statement. Hopefully, she won't deliver it from the Rose Garden with Biden at her side.
Copyright 2023, RepublicanJournal.org