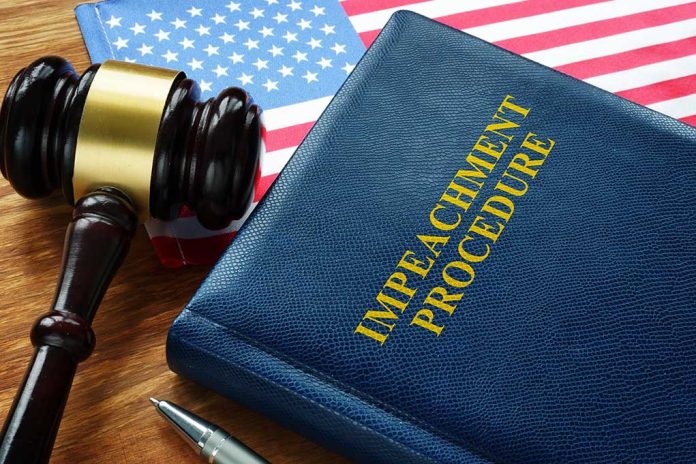 (RepublicanJournal.org) – Conservatives have been fired up about border issues since President Joe Biden took office. Even so, because the president was backed by two Democrat majorities in Congress until recently, Republicans have had little opportunity to challenge him or his supporting officials in Washington, DC. With the House of Representatives now under Republican control, the GOP has decided to initiate impeachment action against Secretary of Homeland Security Alejandro Mayorkas.
Rep. Pat Fallon (R-TX) introduced the articles of impeachment against Mayorkas, claiming the Biden official hasn't done enough to shore up southern border security despite the long-running crisis there. Fallon made a statement to the Daily Caller News Foundation after submitting the impeachment application, accusing the official of "willfully [abdicating] his duties," as well as "actively [misleading] Congress and the American people."
.@RepPatFallon (R-TX) has introduced articles of impeachment against DHS Secretary Alejandro Mayorka https://t.co/iBfsjE5D6b

— Daily Caller (@DailyCaller) January 11, 2023
Mayorkas must be impeached through a vote by the House of Representatives to approve Fallon's articles of impeachment. After this step, the Senate would hold a trial to determine whether his conduct would satisfy the "high crimes and misdemeanors" standard necessary to confirm impeachment.
The Department of Homeland Security also made a statement to the Daily Caller News Foundation for its report on this piece. It blamed the "broken system and outdated laws" in relation to immigration for the difficulties Secretary Mayorkas has faced. It also alleged that these laws have been in place for decades. The agency accused the Republicans targeting Mayorkas of also failing to "come to the table and work on solutions."
Despite the large degree of controversy over border security for the entirety of Joe Biden's presidency, the situation appears as bad as ever. A recent Reuters report on the situation revealed that US Border Patrol agents made the greatest-ever number of arrests in 2022. However, the publication did note that some of these numbers would have been repeat apprehensions following Title 42 expulsions.
Copyright 2023, RepublicanJournal.org