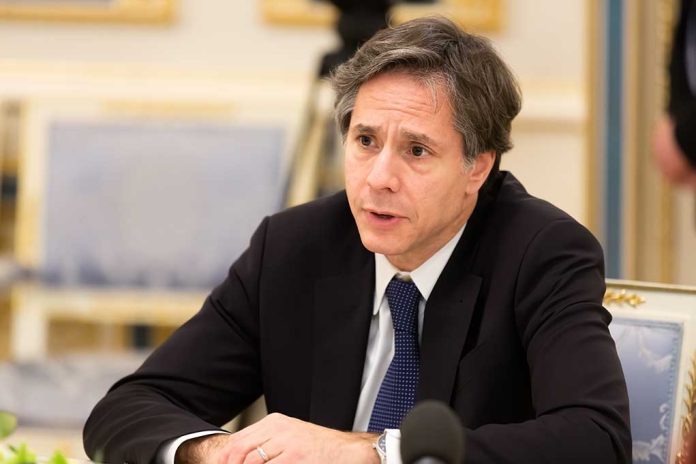 (RepublicanJournal.org) – President Joe Biden is facing new concerns about how his family's business dealings are woven into his administration after one of the most powerful men in our government admitted multiple meetings with the president's younger brother. Secretary of State Anthony Blinken says he's met James Biden "a dozen" times –- but denies talking business with him.
Blinken Says He Met With James Biden 'A Dozen' Times, Denies Business Talk https://t.co/Ew1U4oX49Y pic.twitter.com/TR7BtOidQk

— Daily Wire News (@DailyWireNews) May 9, 2023
On May 9, journalist Paul Sperry reported that in December 2020, when Blinken was talking to Senate investigators, he admitted that since he started working with Joe Biden about 20 years ago, he's met the president's brother James around a dozen times. However, when Deputy Chief Investigative Counsel Joshua Flynn-Brown asked if they'd ever discussed James Biden's business dealings, Blinken replied, "I have not."
Although the president's son Hunter gets most of the attention, James Biden's career has also attracted scrutiny over the years; he's been involved in joint ventures with Hunter, and he's been handed a share of funds invested in Hunter's businesses. In 2019 Politico ran a story that alleged Biden's "family fortunes have closely tracked his political career." All the Bidens have consistently denied that Hunter and James have exploited their relationship with a senior politician and the connections that come with it, but the rumors won't go away.
As for Blinken's denial, the secretary of state is already deeply mired in the Biden family scandals. For example, during the 2020 Senate interview, Blinken claimed he hadn't communicated with Hunter Biden by email while he served as Deputy Secretary of State in the Obama administration –- but in fact, he had, while Hunter was holding a controversial post with Ukrainian energy company Burisma.
Blinken has also been accused of helping cover up the scandal over Hunter's notorious laptop. This new reminder that he also knows James Biden will do nothing to ease worries that the Biden family businesses are steadily infiltrating our government.
Copyright 2023, RepublicanJournal.org