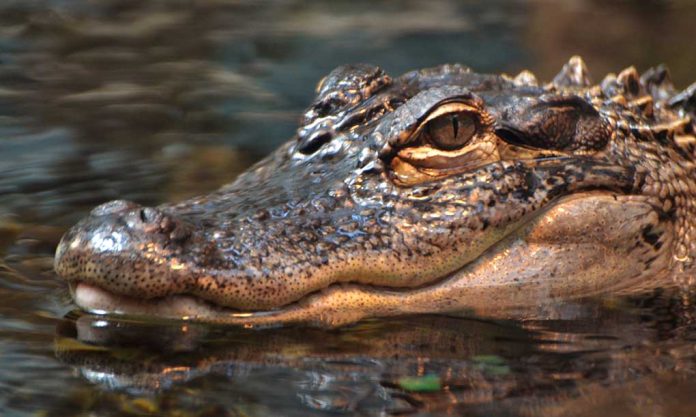 (RepublicanJournal.org) – There can be a real thrill to seeing exotic animals up close. Most people satisfy the desire to see such animals (particularly the more dangerous ones) by going to the zoo. Nevertheless, for some individuals, that just doesn't cut it. Unfortunately, these up-close-and-personal interactions with wild creatures can have disastrous consequences, as a reptile center employee in Utah recently found out.
This week, footage emerged of an alligator attack on a handler at Scales & Tails Utah on the outskirts of Salt Lake City. Lindsay Bull was interacting with guests and preparing to feed the alligator as normal when the animal (named "Darth Gator") suddenly attacked, clamping its jaws around her hand and dragging her into the water.
Luckily, courageous bystanders were there to save the day. Donnie Wiseman leaped into the water and climbed on top of the alligator while another guest got nearby children out of harm's way. Another handler gave Wiseman instructions on how to help Bull get free, which he did.
ALLIGATOR ATTACK: A Utah reptile center employee is recovering after an alligator yanked her into its enclosure during a presentation at a 5-year-old's birthday party. https://t.co/ghtrJAz4D4

— KDKA (@KDKA) August 17, 2021
Bull is reportedly making a good recovery. She released a statement through her employer, thanking the orthopedic surgeon who worked on her in the hospital, crediting the doctor with preserving the use of her hand.
The frightening incident reportedly took place during a fifth birthday party. One imagines the children and parents will avoid exotic creature venues for future celebrations.
Copyright 2021, RepublicanJournal.org