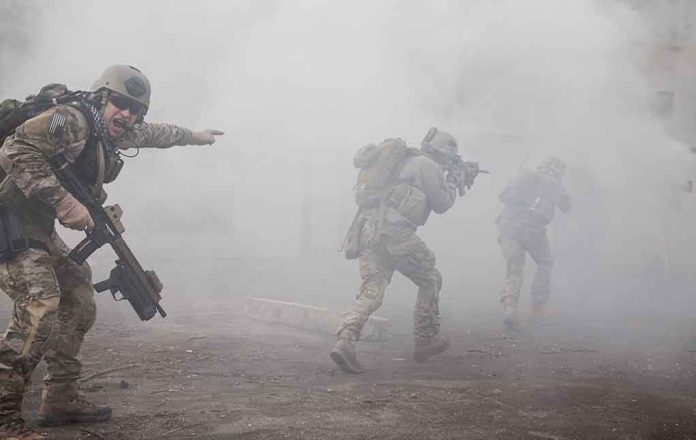 (RepublicanJournal.org) – On January 8, 2020, a crew of US military personnel had the task of defending Iraq's Al Asad Air Base in the wake of the assassination of Iranian General Qasem Soleimani by US forces. In a retaliatory attack, Iran dropped 11 missiles on the base. It instantly became the most significant missile attack against American troops in history.
Miraculously, no one died in the attack, though a number of service members were left with traumatic brain injuries (TBIs). Controversy arose when the Pentagon selected to opt out of awarding these individuals Purple Hearts. Now, 29 lawmakers from both parties have decided to campaign for the service members to receive the honor.
Legislators Want to See Soldiers Honored
The members of Congress wrote a letter to Army Secretary Christine Wormuth requesting she ensure any soldier left with a traumatic brain injury in the wake of the attack gets a Purple Heart. The letter noted that dozens of injured soldiers who apparently qualified for the Purple Heart were still without the honor. Of 59 applications, only 23 were initially successful.
The letter's lead author is Rep. Mike Thompson (D-CA), who himself has received a Purple Heart. Thompson is also co-chair of the House Military Veterans Caucus. Following the Army's receipt of the letter, the organization's Human Resources Command said it would review the rejected Purple Heart applications.
Why the Purple Heart Is So Important
The Purple Heart is not just an esteemed military decoration. Recipients must have either died or suffered a serious wound in the line of duty, and they (or their families) enjoy expanded veteran benefits once they get the medal.
For example, a veteran with Purple Heart status becomes part of the Veterans Association's medical priority group 3. This designation means they don't have to make copayments for medical care or hospitalizations, a major consideration for a military veteran with an ongoing injury or medical condition developed during active service.
The Purple Heart also has the distinction of being the oldest award that the military still presents to its members. Originally called the Badge of Military Merit, the honor has been awarded to over 1.8 million military operatives since then-President George Washington introduced it in 1782.
So, will these American heroes get the recognition and benefits they apparently deserve? Only time will tell whether or not the involvement of federal lawmakers will weigh heavily in their favor.
Copyright 2021, RepublicanJournal.org