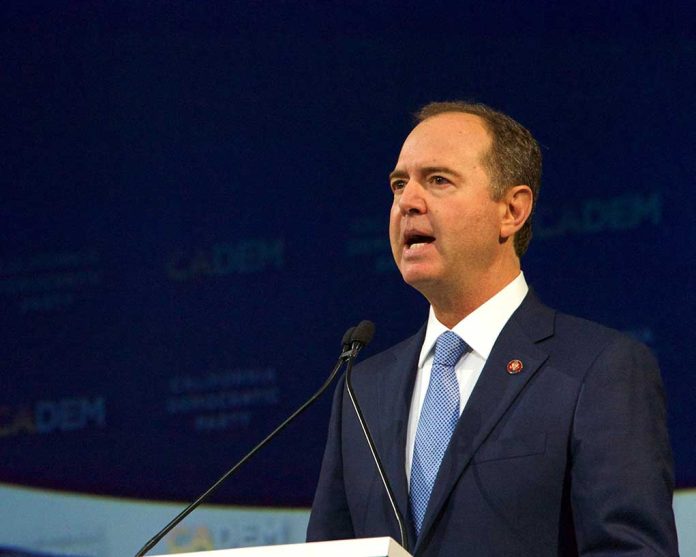 (RepublicanJournal.org) – Hecklers temporarily halted a recent House Judiciary Committee hearing during Rep. Adam Schiff's (D-CA) opening remarks. The vocal audience members each took a turn yelling at the Democrat while he criticized GOP members for defending Donald Trump despite his indictment. Capitol Police removed at least one of the critics during the outbursts.
Man removed from NYC crime hearing after shouting insults at Schiff https://t.co/nVzqCnUbjb pic.twitter.com/zQ0EuyfbnI

— The Hill (@thehill) April 18, 2023
The first heckler called Schiff a "scumbag" and accused the lawmaker and other progressives of "justifying a bunch of families dying," according to The Hill. As Capitol Police led the man away, the second critic pointed to Manhattan District Attorney Alvin Bragg for the violent crime rates in New York. Bragg is the prosecutor currently pursuing charges against Trump over an alleged hush money scandal that took place before the 2016 presidential election.
Alongside Bragg, the individual named "Ralph Nader" and called the liberal activist "a disgrace to this country." The comment prompted many people present to start laughing over what many assumed was either a slip of the tongue or a poorly informed example. Nader is a lawyer who has worked heavily in consumer advocacy but remained on the political sidelines in recent decades. He made four bids for the presidency between 1996 and 2008, running for both the Green Party and as an independent, but he never gained enough serious attention to earn more than 2.7% of the people's vote.
The Hill noted that the heckler likely meant to call out Jerrold Nadler (D-NY), whose previous public remarks slammed GOP members for staging the hearing "for one reason, and one reason only: to protect Donald Trump." Nadler represents the 12th Congressional District of New York and is a "passionate advocate" for numerous progressive movements. He has butted heads repeatedly with Republicans over gun control and other hot-button issues.
Schiff ran with the mishap. He said, "That was a very unfortunate attack on Ralph Nader," prompting additional laughter even after the Capitol Police had restored order to the chamber.
Copyright 2023, RepublicanJournal.org