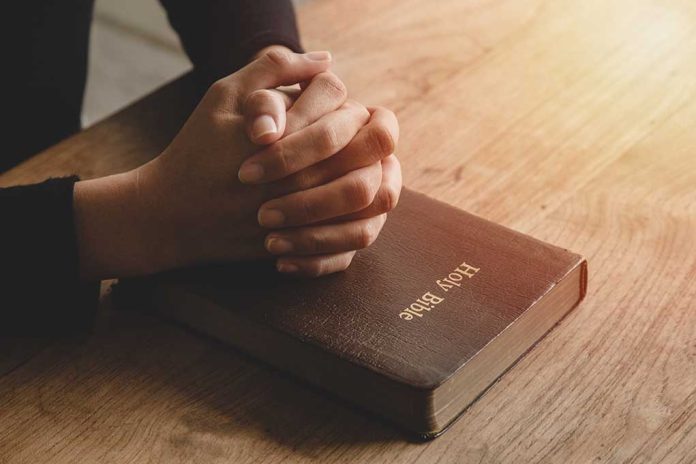 (RepublicanJournal.org) – The US Constitution affords American citizens many rights and liberties; however, nowadays, the right to freedom of expression under the First Amendment is among the most hotly contested. Free speech advocates believe almost any form of expression should be permissible in public, while those who promote cancel culture think problematic or offensive messages should result in strict punishments. This debate has arisen once again over a football coach who lost his job for praying after games.
The Case of Joseph Kennedy
Joseph Kennedy was an assistant football coach at Bremerton High School in Washington until October 2015. The school district fired Kennedy after he refused to stop praying at the 50-yard line post-match. Reports show he also invited other players to pray with him.
Notably, Kennedy did not require any other player to pray with him, nor did he utter prayers aloud. He was permitted to follow his faith from the day the district first hired him in 2008 until they asked him to stop in 2015.
The district claims Kennedy's actions risked violating the Constitutional rights of students or other individuals. The coach sued the school after his dismissal on the grounds of religious discrimination, but a federal district court sided with the institution. The Ninth Circuit Court of Appeals later upheld that decision.
Part of the reasoning here was that Kennedy was acting in his professional role in full view of students and parents while praying. He was expressing himself as a public employee rather than a private citizen. Thus, the First Amendment did not apply to his expression of faith.
GOP-Led States Push Back
A number of Republican-led states are now intervening on Coach Kennedy's behalf. On Tuesday, October 19, 24 state attorneys general filed an amicus brief with the US Supreme Court asking it to review the case. Ken Paxton of Texas, Mark Brnovich of Arizona, and Treg Taylor of Alaska are spearheading this effort.
AG Paxton released a statement on the matter, explaining why the attorneys general felt so strongly about Kennedy's case. It explained that the ruling could turn any action of a public employee during working hours into government speech. This outcome would create major headaches for public employers in terms of avoiding liability, ultimately making individuals less inclined to enter public employment in the first place.
SCOTUS is scheduled to take on a range of bellwether cases this term. The issues it will tackle already include gun control, abortion, and immigration. If this campaign succeeds, Joseph Kennedy could find himself at the center of a high-profile religious liberty battle in the nation's most senior court.
Copyright 2021, RepublicanJournal.org